Hello! Project 2009 Winter Kettei! Hello☆Pro Award '09 ~Elder Club Sotsugyou Kinen Special~
Comments

4
Share
Ad blocker interference detected!
Wikia is a free-to-use site that makes money from advertising. We have a modified experience for viewers using ad blockers

Wikia is not accessible if you've made further modifications. Remove the custom ad blocker rule(s) and the page will load as expected.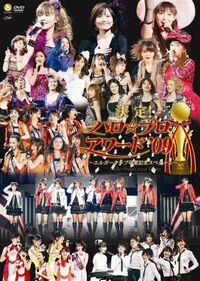 Hello! Project 2009 Winter Kettei! Haro☆Pro Award '09 ~Elder Club Sotsugyou Kinen Special~ (Hello! Project 2009 Winter ハロ☆プロ アワード '09 ~エルダークラブ卒業記念スペシャル~) is Hello! Project's joint Elder Club and Wonderful Hearts concert for winter of 2008/2009. It featured the Elder Club's graduation from Hello! Project, thus making it the final joint concert of the two divisions. The DVD was released on April 15th, 2009 as a 2-disc special edition. This DVD sold a total of 15,172 copies.
Concert DVD
Edit
Track List
Edit
Disc 1
I WISH - Nakazawa Yuko, Iida Kaori, Abe Natsumi, Yasuda Kei, Yaguchi Mari, Ishikawa Rika, Yoshizawa Hitomi, Tsuji Nozomi, Konno Asami, Ogawa Makoto, Fujimoto Miki
I know - Elder Club
OPENING MC - Makoto
Introduction - Hello Pro Egg
VTR - Member Introduction
MC - Makoto & Yaguchi Mari
Minna no Tamago - Shugo Chara Egg!
Come Together - Ongaku Gatas
MC - Makoto, Yaguchi Mari, Yoshizawa Hitomi, Ishikawa Rika, Satoda Mai, Konno Asami
Kenchana ~Daijoubu~ - Maeda Yuki
Uwaki na Honey Pie - Satoda Mai (Back-up dancers: Korenaga Miki, Noto Arisa, Sengoku Minami, Sawada Yuri)
Kuyashi Namida Porori - Nakazawa Yuko
Hapi☆Hapi Sunday! - Tsukishima Kirari starring Kusumi Koharu (Morning Musume)
This is Unmei - Melon Kinenbi
MC - Makoto, Yaguchi Mari, Morning Musume
FOREVER LOVE - ℃-ute
Dakishimete Dakishimete - Berryz Koubou
Tanpopo - Iida Kaori, Yaguchi Mari, Ishikawa Rika, Konno Asami, Niigaki Risa, Shibata Ayumi
BABY! Koi ni KNOCK OUT! - Yasuda Kei, Yoshizawa Hitomi, Ogawa Makoto
MC - Makoto, Yaguchi Mari
Chocolate Damashii - Matsuura Aya
MC - Matsuura Aya
Yeah! Meccha Holiday - Matsuura Aya
Egao ni Namida ~THANK YOU! MY DEAR FRIENDS~ - Matsuura Aya, Inaba Atsuko, Melon Kinenbi, Maeda Yuki, Berryz Koubou, ℃-ute, Miyoshi Erika, Okada Yui, Mitsui Aika, Junjun, Linlin, Mano Erina, Hello Pro Egg
MC - Makoto, Melon Kinenbi
Hare Ame Nochi Suki♥ - Abe Natsumi, Yaguchi Mari, Yoshizawa Hitomi, Konno Asami, Takahashi Ai, Niigaki Risa, Kamei Eri
Ai no Sono ~Touch My Heart!~ - Iida Kaori, Ishikawa Rika, Tsuji Nozomi, Ogawa Makoto, Fujimoto Miki, Michishige Sayumi, Tanaka Reina
co.no.mi.chi - Buono!
MC - Makoto, Yaguchi Mari
Debut! ~Koisuru Kado ni wa Fuku Kitaru~ - Ice Creamusume
MC - Makoto, Yaguchi Mari, Linlin, Ice Creamusume
Hitoshirezu Mune wo Kanaderu Yoru no Aki - Nakazawa Yuko, Iida Kaori, Yasuda Kei, Inaba Atsuko
Magic of Love - Inaba Atsuko, Maeda Yuki
Screen - Abe Natsumi
MC - Makoto, Yaguchi Mari, Abe Natsumi, Tsuji Nozomi
Suki na Senpai - Takahashi Ai, Konno Asami, Ogawa Makoto, Niigaki Risa
Romantic Ukare Mode - Fujimoto Miki, Hello Pro Egg
Kacchoii ze! JAPAN - Ishikawa Rika, Miyoshi Erika, Okada Yui, Berryz Koubou
MC - Makoto, Yaguchi Mari
Naichau Kamo - Morning Musume
Resonant Blue - Morning Musume
Namida no Iro - ℃-ute
MADAYADE - Berryz Koubou
MC - Berryz Koubou, Nakazawa Yuko, Iida Kaori, Abe Natsumi
Morning Coffee - Nakazawa Yuko, Iida Kaori, Abe Natsumi
Koko ni Iruzee! - Iida Kaori, Abe Natsumi, Yaguchi Mari, Yasuda Kei, Ishikawa Rika, Yoshizawa Hitomi, Tsuji Nozomi, Takahashi Ai, Konno Asami, Ogawa Makoto, Niigaki Risa
LOVE Machine - Nakazawa Yuko, Iida Kaori, Abe Natsumi, Yaguchi Mari, Yasuda Kei, Ishikawa Rika, Yoshizawa Hitomi, Tsuji Nozomi, Konno Asami, Ogawa Makoto, Fujimoto Miki, Morning Musume then All
MC (Graduation Ceremony)
Disc 2
Backstage Footage

Hello! Project 2009 Winter Kettei! Haro☆Pro Award '09 ~Elder Club Sotsugyou Kinen Special~
Featured Members
Edit
Featured Members
Edit
External Links
Edit