Hello! Project 2008 Winter ~Kettei! Hello☆Pro Award '08~
Comments

0
Share
Ad blocker interference detected!
Wikia is a free-to-use site that makes money from advertising. We have a modified experience for viewers using ad blockers

Wikia is not accessible if you've made further modifications. Remove the custom ad blocker rule(s) and the page will load as expected.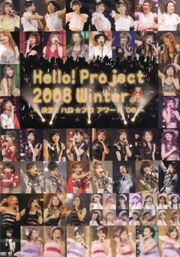 Hello! Project 2008 Winter ~Kettei! Hello☆Pro Award '08~ (Hello! Project 2008 Winter ~決定!ハロ☆プロ アワード '08~) was Hello! Project's 2008 Winter concert tour. The concert DVD was filmed on January 27, 2008 at Yokohama Arena. It was released on March 26, 2008 under the hachama label. It was also released as Disc 3 of the Hello! Project 2008 Winter LIVE DVD BOX the same day. This DVD sold a total of 2,491 copies.
MC1
LOVE Machine (LOVEマシ-ン)
Aozora ga Itsumademo Tsuzuku You na Mirai de Are! (青空がいつまでも続くような未来であれ!)
VTR - Member Introduction
MC2
LALALA Shiawase no Uta (LALALA 幸せの歌)
Tsukiatteru no ni Kataomoi (付き合ってるのに片思い)
Jaja Uma Paradise (じゃじゃ馬パラダイス)
MC3
Ai Ai Daiko (相愛太鼓)
16sai no Koi Nante (16歳の恋なんて)
Onegai Miwaku no Target (お願い魅惑のターゲット オリジナルnew ver.)
Yattarouze! (やったろうぜ!)
MC4
Chance! (チャンス! )
Seishun! LOVE Lunch (青春! LOVEランチ )
I know
MC5
Danna-sama (だんな様)
Iki wo Kasanemashou (息を重ねましょう)
Mikan (みかん)
MC6
Ren'ai Rider (恋愛♥ライダー)
(Inshouha Renoir no You ni (印象派 ルノアールのように)
Otome no Shinrigaku (乙女の心理学)
Yuujou ~Kokoro no Busu ni wa Naranee!~ (友情 ~心のブスにはならねぇ!~)
MC7
Tokaikko Junjou (都会っ子 純情)
Special Generation (スッペシャル ジェネレ~ション)
Narihajimeta Koi no BELL (鳴り始めた恋のBELL)
Yeah! Meccha Holiday (Yeah! めっちゃホリディ)
MC8
Love & Pea~ce! HERO ga Yattekita (ラヴ&ピィ~ス! HEROがやって来たっ。)
Bon Kyu! Bon Kyu! BOMB GIRL (ボン キュッ! ボン キュッ! BOMB GIRL)
Koisuru♥Angel♥Heart (恋する♥エンジェル♥ハート)
Ren'ai Revolution 21 (恋愛レボリュ-ション21)
MC9
MCs
Yaguchi Mari
Tsukishima Kirari starring Kusumi Koharu (Morning Musume)
Coconuts Musume Ayaka
| Mon | Tue | Wed | Thu | Fri | Sat | Sun | Week Rank | Sales |
| --- | --- | --- | --- | --- | --- | --- | --- | --- |
| - | - | - | - | - | - | - | 24 | 1,982 |
| - | - | - | - | - | - | - | 49 | 509 |
Total Reported Sales: 2,491
Tour Schedule
Edit
Date
Time
Prefecture
Venue
January 26, 2008
18:00
Kanagawa
Yokohama Arena
January 27, 2008
13:30
18:00
External Links
Edit