Hello! Project 2007 Shinjin Kouen 11gatsu ~Shinagawa de Aimashou~
Comments

0
Share
Ad blocker interference detected!
Wikia is a free-to-use site that makes money from advertising. We have a modified experience for viewers using ad blockers

Wikia is not accessible if you've made further modifications. Remove the custom ad blocker rule(s) and the page will load as expected.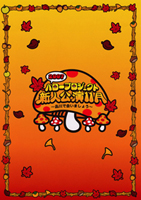 Hello! Project 2007 Shinjin Kouen 11gatsu ~Shinagawa de Ai Mashou~ (2007 ハロー!プロジェクト新人公演 11月 ~品川で会いましょう~) is the third Hello! Project concert to feature Hello Pro Egg. It was performed twice on November 23, 2007 at the Shinagawa Prince Stellar Ball. Hello Pro Egg member Kikkawa Yuu did not perform.
LOVE Machine - All
Koko ni Iruzee! - All
MC1
Narihajimeta Koi no BELL - Mano Erina, Sengoku Minami, Noto Arisa, Sawada Yuri, Korenaga Miki, Muto Mika
Genshoku GAL Hade ni Yukube! - Aoki Erina, Yutoku Ayumi, Wada Ayaka, Sainen Mia, Komine Momoka, Mori Saki
MC2
Ooki na Ai de Motenashite - Maeda Yuuka, Sekine Azusa, Tanaka Anri, Okai Asuna, Fukuda Kanon, Saho Akari, Maeda Irori
Koisuru♡Angel♡Heart - All
MC3
Chu! Natsu Party - Wada Ayaka, Arai Manami, Maeda Irori
Thanks! - Aoki Erina, Sainen Mia
MC4
Oujisama to Yuki no Yoru - Ogawa Saki, Mori Saki, Fukuda Kanon, Sekine Azusa
Akai Freesia - Maeda Yuuka, Mano Erina, Sengoku Minami, Yutoku Ayumi
MC5
Ai no Sono ~Touch My Heart!~ - Ogawa Saki, Kitahara Sayaka, Furukawa Konatsu
Hare Ame Nochi Suki♥ - Maeda Yuuka, Fukuda Kanon, Sekine Azusa, Tanaka Anri, Saho Akari
Shiroi TOKYO - Mori Saki, Yutoku Ayumi, Wada Ayaka, Aoki Erina, Sainen Mia, Komine Momoka
Te wo Nigitte Arukitai - Mano Erina, Sengoku Minami, Noto Arisa, Sawada Yuri, Korenaga Miki, Muto Mika
Piriri to Yukou! - All
MC6
Featured Members
Edit
Hello Pro Egg

1st Gen: Korenaga Miki, Noto Arisa, Aoki Erina, Tanaka Anri, Sengoku Minami, Sawada Yuri, Muto Mika, Furukawa Konatsu, Sainen Mia, Mori Saki, Yutoku Ayumi, Kitahara Sayaka, Wada Ayaka, Maeda Yuuka, Fukuda Kanon, Saho Akari, Okai Asuna, Sekine Azusa, Ogawa Saki, Maeda Irori, Arai Manami
2nd Gen: Mano Erina, Komine Momoka
External Links
Edit