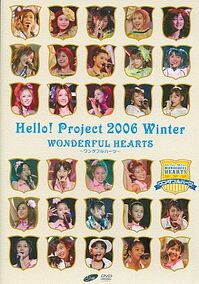 Hello! Project 2006 Winter ~Wonderful Hearts~ is the eighteenth live DVD released by Hello! Project. It features footage from Wonderful Hearts' winter 2006 concert tour on January 4, 2006 at Nakano Sunplaza. It was released only to fan club members, therefore it did not chart on the Oricon weekly chart.
OPENING
Suki Sugite Baka Mitai (好きすぎて バカみたい)
Koko ni Iruzee! (ここにいるぜぇ!)
MC
Kurenai no Kisetsu (クレナイの季節) (v-u-den)
Ajisai Ai Ai Monogatari (紫陽花アイ愛物語) (v-u-den)
Suki ni Naccha Ikenai Hito (好きになっちゃいけない人) (Tanaka Reina, Murakami Megumi, Suzuki Airi)
LOVE Namida Iro (LOVE涙色) (Tsuji Nozomi, Niigaki Risa)
Scramble (スクランブル) (Kago Ai, Takahashi Ai, Fujimoto Miki, Miyoshi Erika)
MC
Wakkyanai (Z) (わっきゃない (Z)) (℃-ute)
Pittari Shitai X'mas! (ぴったりしたいX'mas!) (Ogawa Makoto, Kusumi Koharu, Kumai Yurina)
Nagisa no Sindbad (渚のシンドバッド) (W)
Miss Love Tantei (Miss ラブ探偵) (W)
Morning Musume no Hyokkori Hyoutanjima (モーニング娘。のひょっこりひょうたん島) (Michishige Sayumi, Okada Yui, Tsugunaga Momoko, Tokunaga Chinami, Natsuyaki Miyabi, Kumai Yurina, Umeda Erika, Yajima Maimi)
BE ALL RIGHT! (Ishikawa Rika, Yoshizawa Hitomi, Tsuji Nozomi, Konno Asami, Fujimoto Miki, Miyoshi Erika, Shimizu Saki, Sudo Maasa, Sugaya Risako, Murakami Megumi, Nakajima Saki)
Uwaki na Honey Pie (浮気なハニーパイ)
MC
Mirakururun Grand Purin! (ミラクルルン グランプリン!) (Kago Ai, Shimizu Saki, Nakajima Saki, Okai Chisato)
I & YOU & I & YOU & I (Ishikawa Rika, Kamei Eri, Yajima Maimi, Murakami Megumi)
Gag 100kaibun Aishite Kudasai (ギャグ100回分愛してください) (Berryz Koubou)
Special Generation (スッペシャル ジェネレ~ション) (Berryz Koubou)
Joshi Kashimashi Monogatari 2 (女子かしまし物語2) (Morning Musume)
Iroppoi Jirettai (色っぽい じれったい) (Morning Musume)
Roman ~MY DEAR BOY~ (浪漫 ~MY DEAR BOY~) (Morning Musume)
Chokkan 2 ~Nogashita Sakana wa Ookiizo!~ (直感2 ~逃した魚は大きいぞ!~) (Morning Musume)
Yuujou ~Kokoro no Busu ni wa Naranee!~ (友情 ~心のブスにならねぇ!~) (v-u-den, W, Berryz Koubou, ℃-ute)
Piriri to Yukou! (ピリリと行こう!)
Souda! We're ALIVE (そうだ! We're ALIVE)
MC
Ai Araba IT'S ALL RIGHT (愛あらばIT'S ALL RIGHT)
Members featured in this concert
Edit
Concert schedule
Edit
Date
Time
Venue
2006.01.02
18:00
Nakano Sunplaza (Tokyo)
2006.01.03
12:00
2006.01.03
15:30
2006.01.03
19:00
2006.01.04
11:00
2006.01.04
14:30
2006.01.04
18:00
2006.01.14
15:30
Osaka Kousei Nenkin Kaikan (Osaka)
2006.01.14
19:00
2006.01.15
11:00
2006.01.15
14:30
2006.01.15
18:00
2006.01.21
14:30
Chukyo University Center for Culture & Arts (Aichi)
2006.01.21
18:00
Ad blocker interference detected!
Wikia is a free-to-use site that makes money from advertising. We have a modified experience for viewers using ad blockers

Wikia is not accessible if you've made further modifications. Remove the custom ad blocker rule(s) and the page will load as expected.