Ad blocker interference detected!
Wikia is a free-to-use site that makes money from advertising. We have a modified experience for viewers using ad blockers

Wikia is not accessible if you've made further modifications. Remove the custom ad blocker rule(s) and the page will load as expected.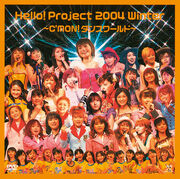 Hello! Project 2004 Winter ~C'MON! DANCE WORLD~
was
Hello! Project
's 2004 Winter concert tour. This is also
Abe Natsumi
's
Morning Musume
graduation concert.
The DVD was released on March 17, 2004 and sold a total of 60,109 copies.
Ai no Sono ~Touch My Heart!~ (愛の園~Touch My Heart!~) - Morning Musume Otome Gumi
Hare Ame Nochi Suki♥ (晴れ 雨 のち スキ) - Morning Musume Sakura Gumi
Go Girl ~Koi no Victory~ (Go Girl~恋のヴィクトリー~) - Morning Musume with Berryz Koubou & Hello! Project Kids
MC 1
Uwasa no SEXY GUY (うわさのSEXY GUY) Goto Maki
Daite yo! PLEASE GO ON (抱いてよ!PLEASE GO ON) - Goto Maki
Genshoku Gal Hade ni Yukube! (原色GAL 派手に行くべ) - Goto Maki with Berryz Koubou &
Senpai ~Love Again~ (先輩 ~LOVE AGAIN~) - Country Musume ni Konno to Fujimoto
Kiiroi Osora de BOOM BOOM BOOM (黄色いお空でBOOM BOOM BOOM) - Coconuts Musume and Inaba Atsuko with Berryz Koubou & Hello! Project Kids
Sarasara no Kawa (さらさらの川) - Maeda Yuki
Aegekai ni Dakarete (エーゲ海に抱かれて) - Iida Kaori
MC 3 - Makoto, Inaba Atsuko, Matsuura Aya and Niigaki Risa
Shiroi TOKYO (白いTOKYO) - ZYX
Nagaragawa no Hare (長良川の晴れ) - Nakazawa Yuko
Mi Da Ra Matenrou (MI DA RA 摩天楼) - Melon Kinenbi
Kawaii Kare (かわいい彼) - Melon Kinenbi
MC 4 - Makoto, Nakazawa Yuko and Goto Maki
Kiseki no Kaori Dance (奇跡の香りダンス。) - Matsuura Aya
MC 5 - Matsuura Aya
The Last Night - Matsuura Aya
GOOD BYE Natsuo (GOOD BYE 夏男) - Matsuura Aya with Berryz Koubou & Hello! Project Kids
Ai Araba IT'S ALL RIGHT (愛あらば IT'S ALL RIGHT) - Morning Musume
MC 7 - Morning Musume
Shabondama (シャボン玉) - Morning Musume
The☆Peace! (ザ☆ピ~ス!) - Morning Musume
Souda! We're ALIVE (そうだ!We're ALIVE) - Morning Musume
MC 7 - Abe Natsumi
22sai no Watashi (22歳の私) - Abe Natsumi
MC 8 - Morning Musume
Furusato (ふるさと) - Morning Musume
MC 9
Dekkai Uchuu ni Ai ga Aru (でっかい宇宙に愛がある)
External Links
Edit