Ad blocker interference detected!
Wikia is a free-to-use site that makes money from advertising. We have a modified experience for viewers using ad blockers

Wikia is not accessible if you've made further modifications. Remove the custom ad blocker rule(s) and the page will load as expected.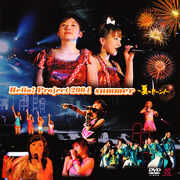 Hello! Project 2004 SUMMER ~Natsu no Doon!~
(Hello! Project 2004 SUMMER ~夏のドーン!) Is
Hello! Project
's summer 2004 concert tour, and is also
Tsuji Nozomi
and
Kago Ai
's
Morning Musume
graduation concert. The DVD was filmed on August 1, 2004 at Nagoya Hall, and released on October 6, 2004. The DVD reached #6 on the Oricon charts and sold a total of 44,578 in 8 weeks.
OPENING
GOOD BYE Natsuo (GOOD BYE 夏男) (Matsuura Aya)
YOUR SONG ~Seishun Sensei~ (YOUR SONG ~青春宣誓~) (Matsuura Aya)
Kiseki no Kaori Dance. (奇跡の香りダンス。) (Matsuura Aya)
MC
Saa, Sassoku Moriagete Iko ka~!! (さあ、早速盛り上げて行こか~!!) (Melon Kinenbi)
Namida no Taiyou (涙の太陽) (Melon Kinenbi)
Samishii Nettaigyo (淋しい熱帯魚) (W, Yasuda Kei, Inaba Atsuko, Ayaka)
MC
Otome Pasta ni Kandou (乙女 パスタに感動) (Hello! Project Kids)
Door no Mukou de Bell ga Natteta (ドアの向こうでBellが鳴ってた) (Iida Kaori)
Sarasara no Kawa (さらさらの川) (Maeda Yuki)
MC
Datte Ikitekanakucha (だって 生きてかなくちゃ) (Abe Natsumi)
Hare Ame Nochi Suki♥ (晴れ 雨 のち スキ) (Abe Natsumi)
Koi no Telephone GOAL (恋のテレフォンGOAL) (Abe Natsumi)
Shining Itoshiki Anata (シャイニング 愛しき貴方) (Country Musume)
Southpaw (サウスポー) (W)
Aa Ii na! (あぁ いいな!) (W)
MC
Te wo Nigitte Arukitai (手を握って歩きたい) (Goto Maki)
Yokohama Shinkirou (横浜蜃気楼) (Goto Maki)
Genshoku GAL Hade ni Yukube! (原色GAL 派手に行くべ!) (Goto Maki)
MC
Fighting Pose wa Date ja nai! (ファイティングポーズはダテじゃない!) (Berryz Koubou)
Happiness ~Koufuku Kangei!~ (ハピネス ~幸福歓迎!~) (Berryz Koubou)
Piriri to Yukou! (ピリリと行こう!) (Berryz Koubou)
MC
Joshi Kashimashi Monogatari (女子かしまし物語) (Morning Musume)
Roman ~MY DEAR BOY~ (浪漫 ~MY DEAR BOY~) (Morning Musume)
Ai Araba IT'S ALL RIGHT (愛あらば IT'S ALL RIGHT) (Morning Musume)
Ren'ai Revolution 21 (恋愛レボリューション21) (Morning Musume)
MC
MC
Yeah! Meccha Holiday (Yeah! めっちゃホリディ)
Go Girl ~Koi no Victory~ (Go Girl ~恋のヴィクトリー~)
Featured Members
Edit
External Links
Edit