Ad blocker interference detected!
Wikia is a free-to-use site that makes money from advertising. We have a modified experience for viewers using ad blockers

Wikia is not accessible if you've made further modifications. Remove the custom ad blocker rule(s) and the page will load as expected.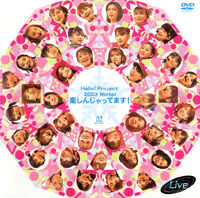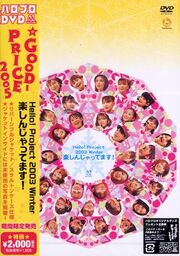 Hello! Project 2003 Winter~楽しんじゃってます!~
(Hello! Project 2003 Winter ~Tanoshin Jattemasu!~) is a live concert DVD featuring various
Hello! Project
artists. It was recorded on January 26, 2003 at
Yokohama Arena
and released on 19 March 2003 on DVD and VHS. This DVD sold a total of 39,621 copies.
Featured Artists
Edit
Opening
<Corner 1>
Haru ga Kita - All (without Hello! Project Kids)
Yosakoi Setsu ~ Tokyo, Yoimachigusa.  Maeda Yuki
WOW WOW WOW / - Petitmoni
<Corner 2>
<Corner 3>
<Corner 4>
Yeah! Meccha Holiday - Matsuura Aya
The Bigaku - Matsuura Aya
<Corner 5>
Te wo Nigitte Arukitai - Goto Maki
Sans Toi Ma Mie - Goto Maki
Do it! Now - Morning Musume
<Corner 6>
The Peace! - Morning Musume
<Corner 7>
Ren'ai Revolution 21 All (without Hello! Project Kids)
おまけ映像
カメラは見た!! ~笑撃の舞台裏~ ステージ裏でも楽しんじゃってますf
External Links
Edit