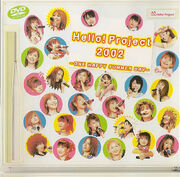 Hello! Project 2002 ~One Happy Summer Day~ is a live concert DVD featuring various Hello! Project artists. It was recorded on July 28, 2002 at Yoyogi National Gymnasium in Tokyo and released on October 17, 2002 as a DVD and a VHS tape. This DVD sold a total of 37,424 copies.
Shiawase Beam! Suki Suki Beam! (幸せビーム!好き好きビーム!) - Happy 7
Shiawase Desu ka? (幸せですか?) - Sexy 8
Shiawase Kyouryuu Ondo (幸せきょうりゅう音頭) - Odoru♡11
MC-1
Natsu no Omoide (夏の思い出)
MC-2
Tokyo, Yoimachigusa. (東京、宵町草。) - Maeda Yuki
Tokyo Bijin (東京美人) - Nakazawa Yuko
MC-3
Iroppoi Onna ~SEXY BABY~ (色っぽい女 ~SEXY BABY~) - Country Musume ni Ishikawa Rika -
Murasaki Shikibu (ムラサキシキブ) - Heike Michiyo
MC-4 - Tsunku, Nakazawa Yuko and Hello! Project Kids
Manatsu no Kousen (Hawaiian Version) (真夏の光線(ハワイアンVersion)) - Coconuts Musume
]Sotto Kuchizukete Gyutto Dakishimete (そっと口づけて ギュッと抱きしめて) - Fujimoto Miki
Yaruki! IT'S EASY (やる気!IT'S EASY) - Goto Maki
Ai~n! Dance no Uta (アイ~ン!ダンスの唄) - Minimoni
MC-5
Heike Michiyo, Inaba Atsuko, Country Musume, Maeda Yuki, Fujimoto Miki and Ishii Rika - Kamome no Suihei-san (かもめの水兵さん)
Natsu no Yoru wa Danger! (夏の夜はデインジャー!) - Melon Kinenbi
Yeah! Meccha Holiday (Yeah!めっちゃホリディ) - Matsuura Aya
Mr.Moonlight ~Ai no Big Band~ (Mr.Moonlight~愛のビッグバンド~) - Morning Musume
MC-6
The☆Peace! (ザ☆ピ~ス!) - Morning Musume
Ren'ai Revolution 21 (恋愛レボリューション21) - Morning Musume
MC-7
Furusato Medley (ふるさとメドレ)
Souda! We're ALIVE (そうだ!We're ALIVE)
External Links
Edit
Ad blocker interference detected!
Wikia is a free-to-use site that makes money from advertising. We have a modified experience for viewers using ad blockers

Wikia is not accessible if you've made further modifications. Remove the custom ad blocker rule(s) and the page will load as expected.