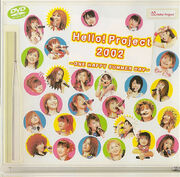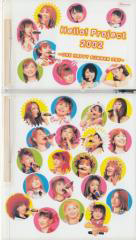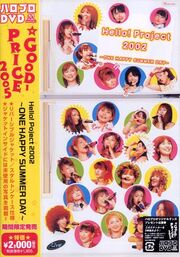 Hello! Project 2002 ~ONE HAPPY SUMMER DAY~ is a live concert DVD featuring various Hello! Project artists. It was recorded on July 28, 2002 at Yoyogi National Gymnasium in Tokyo and released on October 17, 2002 as a DVD and a VHS tape. This DVD sold a total of 37,424 copies.
MC1
MC2
Tokyo Bijin - Nakazawa Yuko (with Fujimoto Miki and Matsuura Aya as backdancers)
MC3
MC4
Manatsu no Kousen (Hawaiian Version) - Coconuts Musume (accompanied by Ishii Rika, Matsuura Aya, and Melon Kinenbi)
Sotto Kuchizukete Gyutto Dakishimete - Fujimoto Miki
Yaruki! IT'S EASY - Goto Maki (accompanied by Melon Kinenbi)
MC5 (Morning Musume Corner)
Kamome no Suihei-san - Heike Michiyo, Inaba Atsuko, Country Musume, Maeda Yuki, Fujimoto Miki and Ishii Rika
Natsu no Yoru wa Danger! - Melon Kinenbi
Yeah! Meccha Holiday - Matsuura Aya
♡Momoiro Kataomoi♡ - Matsuura Aya
Mr.Moonlight ~Ai no Big Band~ - Morning Musume
MC6
I WISH - Morning Musume
The☆Peace! - Morning Musume
Ren'ai Revolution 21 - Morning Musume
MC7
Featured Members
Edit
Natsu no Omoide is a cover of a 1962 song, and Kamome no Suihei-san is a cover of the 1937 children's song.
External Links
Edit
Ad blocker interference detected!
Wikia is a free-to-use site that makes money from advertising. We have a modified experience for viewers using ad blockers

Wikia is not accessible if you've made further modifications. Remove the custom ad blocker rule(s) and the page will load as expected.