Ad blocker interference detected!
Wikia is a free-to-use site that makes money from advertising. We have a modified experience for viewers using ad blockers

Wikia is not accessible if you've made further modifications. Remove the custom ad blocker rule(s) and the page will load as expected.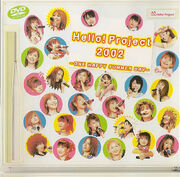 Hello! Project 2002 ~One Happy Summer Day~ is a live concert DVD featuring various Hello! Project artists. It was recorded on July 28, 2002 at Yoyogi National Gymnasium in Tokyo and released on October 17, 2002 as a DVD and a VHS tape. This DVD sold a total of 37,424 copies.
Shiawase Beam! Suki Suki Beam! (幸せビーム!好き好きビーム!) - Happy 7
Shiawase Desu ka? (幸せですか?) - Sexy 8
Shiawase Kyouryuu Ondo (幸せきょうりゅう音頭) - Odoru♡11
MC-1
Natsu no Omoide (夏の思い出)
MC-2
Tokyo, Yoimachigusa. (東京、宵町草。) - Maeda Yuki
Tokyo Bijin (東京美人) - Nakazawa Yuko
MC-3
Iroppoi Onna ~SEXY BABY~ (色っぽい女 ~SEXY BABY~) - Country Musume ni Ishikawa Rika -
Murasaki Shikibu (ムラサキシキブ) - Heike Michiyo
MC-4 - Tsunku, Nakazawa Yuko and Hello! Project Kids
Manatsu no Kousen (Hawaiian Version) (真夏の光線(ハワイアンVersion)) - Coconuts Musume
]Sotto Kuchizukete Gyutto Dakishimete (そっと口づけて ギュッと抱きしめて) - Fujimoto Miki
Yaruki! IT'S EASY (やる気!IT'S EASY) - Goto Maki
Ai~n! Dance no Uta (アイ~ン!ダンスの唄) - Minimoni
MC-5
Heike Michiyo, Inaba Atsuko, Country Musume, Maeda Yuki, Fujimoto Miki and Ishii Rika - Kamome no Suihei-san (かもめの水兵さん)
Natsu no Yoru wa Danger! (夏の夜はデインジャー!) - Melon Kinenbi
Yeah! Meccha Holiday (Yeah!めっちゃホリディ) - Matsuura Aya
Mr.Moonlight ~Ai no Big Band~ (Mr.Moonlight~愛のビッグバンド~) - Morning Musume
MC-6
The☆Peace! (ザ☆ピ~ス!) - Morning Musume
Ren'ai Revolution 21 (恋愛レボリューション21) - Morning Musume
MC-7
Furusato Medley (ふるさとメドレ)
Souda! We're ALIVE (そうだ!We're ALIVE)
External Links
Edit