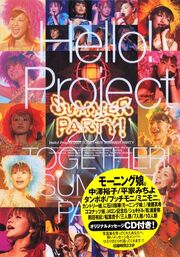 Hello! Project 2001 TOGETHER! SUMMER PARTY
is the
Hello! Project
2001 summer concert tour.
Chu! Natsu Party / 3nin Matsuri
Summer Reggae! Rainbow / 7nin Matsuri
Dancing! Natsu Matsuri / 10nin Matsuri
MC
Kekkyoku no Bye Bye Bye / Heike Michiyo
Zentaiteki ni Daisuki Desu / Sheki-Dol
Tokyo You Turn / Maeda Yuki
Hajimete no Happy Birthday! / Country Musume. ni Ishikawa Rika
Jounetsu Yuki Miraisen / Coconuts Musume
BABY! Koi ni KNOCK OUT! / Petitmoni
Koi wo Shichaimashita! / Tanpopo
Denwa Matteimasu / Melon Kinenbi
Ai no Bakayarou / Goto Maki
Minimoni Jankenpyon! / Minimoni
Tropica~l Koishite~ru / Matsuura Aya
Kuyashi Namida Porori / Nakazawa Yuko
Futari Gurashi / Nakazawa Yuko
MC
The☆Peace! / Morning Musume
Daite HOLD ON ME! / Morning Musume
Chokotto LOVE / Country Musume, Inaba Atsuko
Happy Summer Wedding / Morning Musume
Koi no Dance Site / Morning Musume
Ren'ai Revolution 21 / Morning Musume
Encore
LOVE Machine / Morning Musume
I WISH / Morning Musume
Featured Members
Edit
Ad blocker interference detected!
Wikia is a free-to-use site that makes money from advertising. We have a modified experience for viewers using ad blockers

Wikia is not accessible if you've made further modifications. Remove the custom ad blocker rule(s) and the page will load as expected.