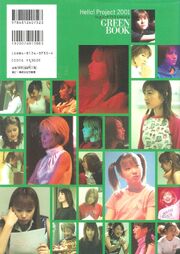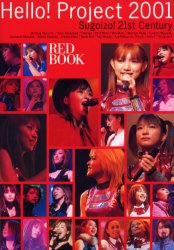 Hello! Project 2001 Sugoizo! 21st Century was Hello! Project's 2001 New Year's concert tour that began in January, 2001 and had 8 performances. The concert was filmed and released on VHS for fanclub members.
Two photobooks of the event were released on May 10th, 2001, titled Hello! Project 2001 Sugoizo! 21st Century GREEN BOOK and Hello! Project 2001 Sugoizo! 21st Century RED BOOK. Their original price was 1,300 yen. The photobooks came with a special lottery ticket where winners could receive either special autographs, limited to 25 winners, or one of 20 photos of a performing act from the event, totaling 320 possible pictures when accounting for the sixteen featured acts.
Say Yeah! ~Motto Miracle Night~ - Morning Musume
MC 1
MC 2
Shanghai no Kaze - Nakazawa Yuko
Otome Pasta ni Kandou - Tanpopo
MC 3 - Matsuura Aya
100 Kai no KISS - Matsuura Aya
Heike Michiyo Medley

Ai no Chikara - Heike Michiyo
Kekkyoku Bye Bye Bye - Heike Michiyo
One Room Natsu no Koi Monogatari - Heike Michiyo

MC 4
I WISH - Morning Musume
Summer Night Town - Morning Musume
Daite HOLD ON ME! - Morning Musume
Seishun Jidai 1.2.3! - Petitmoni
Chokotto LOVE - Petitmoni, then Heike Michiyo, Country Musume, Coconuts Musume, Melon Kinenbi, Maeda Yuki and Sheki Dol
Happy Summer Wedding - Morning Musume
Koi no Dance Site - Morning Musume
Encore
Featured Acts
Edit
Nakazawa Yuko
Tanpopo

Iida Kaori
Yaguchi Mari
Ishikawa Rika
Kago Ai

Petitmoni

Yasuda Kei
Goto Maki
Yoshizawa Hitomi

Minimoni

Yaguchi Mari
Mika Todd
Tsuji Nozomi
Kago Ai

Akagumi 4

Nakazawa Yuko
Goto Maki
Danielle Delaunay
Yoshizawa Hitomi

Aoiro 7

Iida Kaori
Yaguchi Mari
Mika Todd
Lehua Sandbo
Atsuko Inaba
Ishikawa Rika
Tsuji Nozomi

Kiiro 5

Heike Michiyo
Abe Natsumi
Yasuda Kei
Kimura Ayaka
Kago Ai
Concert Schedule
Edit
Date
Venue
Prefecture
Time
1/02
Nakano Sun Plaza
Tokyo
18:00
1/03
13:30
1/05
18:00
1/06
2/11
Osaka Welfare Pension Center
Osaka
2/12
2/24
Nagoya Century Hall
Nagoya
2/25
Yasuda Kei did not participate in the 1/02 and 1/03 concerts in Tokyo.
Country Musume did not participate in the 2/12 concert in Osaka.
Ad blocker interference detected!
Wikia is a free-to-use site that makes money from advertising. We have a modified experience for viewers using ad blockers

Wikia is not accessible if you've made further modifications. Remove the custom ad blocker rule(s) and the page will load as expected.