Ad blocker interference detected!
Wikia is a free-to-use site that makes money from advertising. We have a modified experience for viewers using ad blockers

Wikia is not accessible if you've made further modifications. Remove the custom ad blocker rule(s) and the page will load as expected.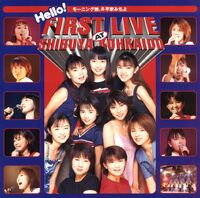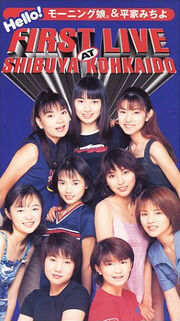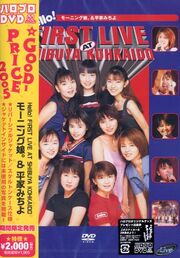 Hello! FIRST LIVE AT SHIBUYA KOHKAIDO is a live concert DVD featuring Morning Musume and Heike Michiyo. It was filmed on July 12, 1998 and was the very first (published) Morning Musume live. It was a concert that featured live musicians playing. The DVD ranked 24th in the Oricon chart.
Tracklist
Edit
Featured Members
Edit
External Links
Edit
Morning Musume
History | Timeline | Auditions | DVDs | Publications
Concerts

Concerts

Spring Tours: 2001 | 2002 | 2003 | 2004, 2005 | 2006 | 2007 | 2008 | 2009 | 2010 | 2011 | 2012 | 2013 | 2014 | 2015 | 2016


Fall Tours: 2004 | 2005 | 2006 | 2007 | 2008 | 2009 | 2010 | 2011 | 2012 | 2013 | 2014 | 2015 | 2016
Other: 1999 | 2000 | 2001 | 2002 | 2003 | 2009 | 2013 | 2014 (Naruchika, New York) | 2016 (Houston, Naruchika, Taipei)

Other Concerts & Events
Hello! Project Concerts
Summer Tours: 2009 | 2010 | 2011 (WOW WOW, YEAH YEAH) | 2012 (Ktkr, Wkwk) | 2013 (Sorezore!, Mazekoze!) | 2014 | 2015 | 2016


Winter Tours: 2010 (Mobekimasu!) | 2011 (A-gana, B-kkuri) | 2012 (Funky-chan, Rock-chan) | 2013 (Viva!, Bravo!) | 2014 (GOiSU MODE, DE-HA MiX) | 2015 | 2016 | 2017
Hina Fest: 2013 (Zen'yasai, Berryz Koubou 10 Nenme Totsunyuu Special, Thank You For Your Love!) | 2014 | 2015 | 2016
Other Concerts: Hello! Project ☆ Festival 2011 | Hello! Project Yaon Premium Live ~Soto Fest~ | Hello! Project COUNTDOWN PARTY 2013 ~GOOD BYE & HELLO!~ | Hello! Project COUNTDOWN PARTY 2014 ~GOOD BYE & HELLO!~ | Berryz Koubou Matsuri | Hello! Project COUNTDOWN PARTY 2015 ~GOOD BYE & HELLO!~
Heike Michiyo
Singles

Major: 01, 02, 03, 04, 05, 06, 07, 08, 09, 10, 11
Indies: 01, 02
Albums

Original: Teenage Dream
Best: For ourself ~Single History~
Indies: JECICA, Koimizuki, Fantasia
Soundtrack: Morning Cop ~Daite HOLD ON ME!~
Participated Units

Kiiro 5, 7nin Matsuri, Sexy 8