Hello! First Live at Shibuya Kohka


DVD cover

Hello! Project

Concert Tour
Opening Date
July 12, 1998
Closing Date
July 27, 1998
Released
December 12, 1998 (VHS/LD), December 4, 2012 (DVD)
Format
VHS (EPVE-5002), Laser Disc (EPLE-5002), DVD (EPBE-5050)
Recorded
July 12, 1998
Length
00:59:30
Label
zetima

Hello! Project

Concert Tours Chronology
Next
Hello! Project Happy New Year '99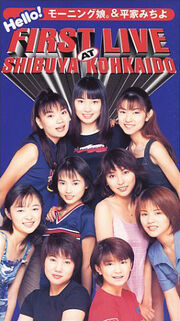 Hello! FIRST LIVE AT SHIBUYA KOHKAIDO was Hello! Project's first recorded live concert.
It was filmed on July 12, 1998, and the VHS and Laser Disc of the performance were released on December 12, 1998. A DVD version was released four years later, on December 04, 2002. The DVD ranked 24th in the Oricon chart.
Tracklist
Edit
Interview 1 (Track: Daite HOLD ON ME!)
Interview 2
Dou ni ka Shite Doyoubi - Morning Musume
Usotsuki Anta - Morning Musume
Interview 3
GET- Heike Michiyo with Morning Musume
Interview 4
Daikirai - Heike Michiyo
Interview 5
Morning Coffee - Morning Musume
Mirai no Tobira - Morning Musume
Summer Night Town - Morning Musume
Ai no Tane - Morning Musume
Samishii Hi - Morning Musume
Interview 6 (Track: Onegai Nail)
Featured Members
Edit
At the time of the concert, Hello! Project was still known as "Hello!" and is credited so in the recording as well as on the covers of the VHS, LD, and DVD.
The concert featured a live band for a majority of the songs.
During Nakazawa Yuko's performance of Karasu no Nyoubou, the accompanying music track cut out for around 15 seconds. Nakazawa was only slightly shaken, and continued acapella while the audience kept time clapping until the track returned.
External Links
Edit
Heike Michiyo
Singles

Major: 01, 02, 03, 04, 05, 06, 07, 08, 09, 10, 11
Indies: 01, 02
Albums

Original: Teenage Dream
Best: For ourself ~Single History~
Indies: JECICA, Koimizuki, Fantasia
Soundtrack: Morning Cop ~Daite HOLD ON ME!~
Participated Units

Kiiro 5, 7nin Matsuri, Sexy 8
Ad blocker interference detected!
Wikia is a free-to-use site that makes money from advertising. We have a modified experience for viewers using ad blockers

Wikia is not accessible if you've made further modifications. Remove the custom ad blocker rule(s) and the page will load as expected.