Hashimoto Aina (橋本愛奈) is a Japanese pop singer. She is the sub-leader of Ciao Bella Cinquetti, a group under UP-FRONT CREATE, and a former member of Hello Pro Egg.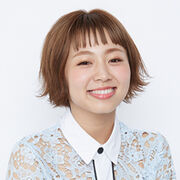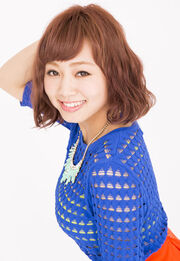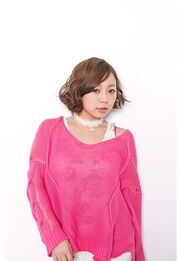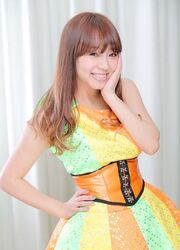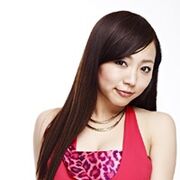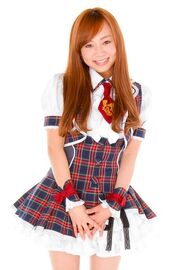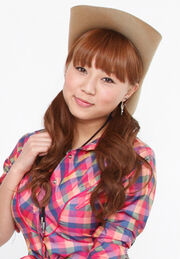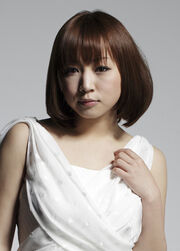 On October 13, she graduated from Hello Pro Egg along with the other members of THE Possible.
2013-Present
Edit
On August 1, 2013, Hashimoto announced on her blog that she was named the sub-leader of THE Possible.[1]
On September 27, 2015, Hashimoto changed her member color from orange to red.
Name: Hashimoto Aina (橋本愛奈)
Nickname: Hashimon, Ai, Ainyan (by Mirei)
Birthdate: October 3, 1992
Birthplace: Kanagawa Prefecture, Japan
Blood Type: B
Height: 152 cm
Western Zodiac: Libra
Favorite food: Strawberries, rice, shrimp
Least favorite food: Tomatoes, cucumbers
Hobbies: Reading manga, sleeping
Specialty: Making strange faces, Cleaning
Current boom: Nail art
Favorite Colors: Pink, white, black, light blue, yellow
Favorite animal: Koala
Favorite H!P song: Suna wo kamu you ni… NAMIDA
H!P member she aims to be like: Matsuura Aya
Pets: 2 dogs, Tiara and Rabu.
Best Friends: Korenaga Miki, Ogawa Saki, Hashida Mirei, Kitahara Sayaka, Ohse Kaede, Akiyama Yurika, Morozuka Kanami
Hobbies: Dance, piano
Special Skill: Dance, piano, fast feet
Likes: Badminton, music, scribbling, purikura, tampering with hair
Dislikes: Flavorless food, Waking up early
Animal she compares herself to: Squirrel.
Hello! Project Groups:
NICE GIRL Project! Groups:
Singles Participated In
Edit
Ciao Bella Cinquetti
Edit
Yabe~Nabe~ na Atsuryoku Be~na~ (with Oto no Moto (Fujii Takashi & Tsubaki Oniyakko))
Ganbarou Nippon Ai wa Katsu Singers
Edit
Discography
Edit
Solo Songs
Edit
Featured Singles
Edit
[2007.06.13] Natsu no Tropical Musume. (夏のトロピカル娘。), featuring Akiyama Yurika, Hashimoto Aina
[2010.10.02] Girigiri Out!
[2011.06.29] Kanzen Out! (完全アウト!)
Select Concerts
Edit
[2006.04.01] Tokito Ami Hatsu Live '06 Haru ~The Nakano Sampler~ (時東ぁみ初ライブ '06春 ~ザ・中野サンプラ~)
[2005.12.??] 34 Choume no Kiseki (34丁目の奇跡)
[2006.08.02] CRY FOR HELP! ~Uchuu Station Chikaku no Baiten ni te~ (CRY FOR HELP!~宇宙ステーション近くの売店にて~)
[2010] Fushigi Yuugi - role as: Miaka Yuuki
[2011] Fushigi Yuugi ~Suzaku Hen - role as: Miaka Yuuki
[2012] Fushigi Yuugi ~Seiryuu Hen - role as: Miaka Yuuki
She is the shortest member of THE Possible.
"Girigiri Out" was her first solo image DVD release featuring footage taken in Australia.
Participated in the audition for Hello! Project Kids, but failed.
External Links
Edit
Ciao Bella Cinquetti / THE Possible
Current Members

1st Gen: Morozuka Kanami, Hashimoto Aina (SL)
2nd Gen: Okada Robin Shouko (L), Goto Yuki
Former Members

1st Gen: Ose Kaede, Akiyama Yurika
Singles

Indies: 01, 02, 03, 04, 05, 06, 07, 08
Major: 01, 02, 03, 04, 05, 06, 07, 08, 09, 10
Collaboration: 01, 02, 03, 04
Live: 01, 02, 03, 04
Albums

Original: 01, 02, 03
Mini: 01
Best: 01, 02
Cite error: <ref> tags exist, but no <references/> tag was found
Ad blocker interference detected!
Wikia is a free-to-use site that makes money from advertising. We have a modified experience for viewers using ad blockers

Wikia is not accessible if you've made further modifications. Remove the custom ad blocker rule(s) and the page will load as expected.