Ad blocker interference detected!
Wikia is a free-to-use site that makes money from advertising. We have a modified experience for viewers using ad blockers

Wikia is not accessible if you've made further modifications. Remove the custom ad blocker rule(s) and the page will load as expected.
Happy☆彡 (ハッピー☆彡) is the third single by Tsukishima Kirari starring Kusumi Koharu (Morning Musume). The single was released in both limited and regular editions on May 2, 2007; the limited coming with a Super Corabo Mirufii card. The first press of the regular edition came with a Deka Label sticker The Single V was released on May 9, 2007. "Happy☆彡" was used as the 3rd opening theme for the anime Kirarin☆Revolution, and "Koi no Mahou wa Habibi no Bi!" was used as the 5th ending theme for the same anime.
Tracklist
Edit
Happy☆彡
Koi no Mahou wa Habibi no Bi! (恋の魔法はハビビのビ!; Love's Magic is a Lover's Beauty!)
Happy☆彡 (Instrumental)
Happy☆彡
Happy☆彡 (Dance Shot Ver.)
Making of (メイキング映像)
TV Performances
Edit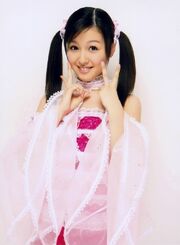 [2007.05.02] Oha Suta
[2007.05.02] Oha Suta
[2007.05.09] Oha Suta
[2007.06.06] Oha Suta
Concert Performances
Edit
Happy☆彡
Hello! Project 2008 Winter ~Wonderful Hearts Nenjuu Mu Kyuu~
Kirarin☆Revolution Special Live
Single Information
Edit
Happy☆彡
Lyrics, Composition, Arrangement: Bounceback
Dance Choreographer: YOSHIKO
Music Video: Kawatani Hideo (Director), Suehiro Tetsushi (Producer)
Koi no Mahou wa Habibi no Bi!
Lyrics: Chieko Suyama, Katsuya Yoshida
Composition, Arrangement: Katsuya Yoshida
This was her first single to have an English title.
The single V for the single sold 7,007 copies and peaked at #3 on the Oricon charts.
Daily & Weekly Ranking
Mon
Tue
Wed
Thu
Fri
Sat
Sun
Week Rank
Sales
-
4
2
2
2
3
2
2
27,428
6
19
15
11
9
9
10
11
11,010
14
30
29
29
22
17
17
25
5,116
25
-
-
50
49
29
27
50
2,992
35
-
-
-
-
38
40
62
1,994
-
-
-
-
-
-
40
88
1,458
-
-
-
-
-
-
-
89
1,135
-
-
-
-
-
-
42
91
1,075
-
-
-
-
-
-
-
105
1,044
-
-
-
-
-
-
-
103
879
-
-
-
-
-
-
-
116
724
-
-
-
-
-
-
-
124
757
-
-
-
-
-
-
-
168
572
-
-
-
-
-
-
-
157
609
-
-
-
-
-
-
-
Out for 1 week.
-
-
-
-
-
-
-
179
485
Yearly Ranking
| Year | Year Rank | Sales |
| --- | --- | --- |
| 2007 | 141 | 57,278 |
Total Reported Sales: 57,278
External Links
Edit
Kirarin☆Revolution
Groups
&
Members

Tsukishima Kirari starring Kusumi Koharu (Morning Musume)
Kira☆Pika: Kusumi Koharu as Kira, Hagiwara Mai as Pika
MilkyWay: Kusumi Koharu as Tsukishima Kirari, Kitahara Sayaka as Yukino Noel, Kikkawa Yuu as Hanasaki Cobeni
SHIPS: Ide Takuya as Kazama Hiroto, Kanai Shikou as Hiwatari Seiji
Singles

Tsukishima Kirari: 1, 2, 3, 4, 5, 6
Kira☆Pika: 1
MilkyWay: 1, 2
SHIPS: 1, 2
Other: Ooki na Ai de Motenashite by ℃-ute
Albums

☆☆☆ (Mitsuboshi), Kirarin☆Land, Kirari to Fuyu
Mini: Song Selection, Song Selection 2, Song Selection 3, Song Selection 4, Song Selection 5
Best: Best☆Kirari
Other

Kirarin☆Revolution Final Stage