Ad blocker interference detected!
Wikia is a free-to-use site that makes money from advertising. We have a modified experience for viewers using ad blockers

Wikia is not accessible if you've made further modifications. Remove the custom ad blocker rule(s) and the page will load as expected.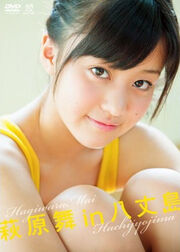 Hagiwara Mai in Hachijojima is the 1st solo DVD by Hagiwara Mai, documenting her trip to Hachijojima. It was released on October 21, 2009. The DVD also features commentary from Hagiwara and Yajima Maimi.
Tracklist
Edit
Opening (オープニング)
Hachijojima Diary Day 1 Hagiwara Mai Photobook Photography (八丈島日記 1日目 写真集撮影)
Hachijojima Diary Day 2 Hagiwara Mai Photobook Photography (八丈島日記 2日目 写真集撮影)
Hachijojima Diary Day 2 Kihachijo Orimono Taiken (八丈島日記 2日目 黄八丈織物体験)
Hachijojima Diary Day 3 Pool Asobi (八丈島日記 3日目 プール遊び)
Mai-chan e no Shitsumon Corner (舞ちゃんへの質問コーナー)
Hachijojima Diary Day 3 Umi Duri Taiken (八丈島日記 3日目 海釣り体験)
Hachijojima Diary Day 3 Ohitori-sama Barbeque (八丈島日記 3日目 お一人様BBQ)
Hachijojima Diary Day 3 Hachijo Taiko Taiken (八丈島日記 3日目 八丈太鼓体験)
Hachijojima Diary NG Collection (八丈島日記 NG集)
Photobook Kujuukuri de no Satsuei Fuukei (写真集 九十九里での撮影風景)
External Links
Edit