Verification Needed
This page makes unsourced claims, marked by [verification needed]. Please add sources.
Any out of the ordinary information without references will be removed within three months.
Haga Akane
羽賀 朱音

Haga Akane promoting "Furari Ginza"
Background Information
Also Known As
Akanechin (

あかねちん

?

)
Born
March 7, 2002
Origin
Nagano, Nagano, Japan
Blood Type
O
Zodiac Sign
Pisces
Height
158.5cm
Genres
J-Pop
Occupation
Idol, Singer, Model
Years Active
2013-present
(5 years)
Agency
UP-FRONT PROMOTION (2013-)
Label
UP-FRONT WORKS
Associated Acts
Hello Pro Kenshuusei, Morning Musume, Hagatamu, AAAa, Hagi-King
Blog
Morning Musume 12KI

Morning Musume

Information
Joined
September 30, 2014
Generation
12th Generation
Member Color

     

 Light Orange
Debut Single
Seishun Kozou ga Naiteiru / Yuugure wa Ameagari / Ima Koko Kara
Time in Group
3 Years, 11 Months, 25 Days

Hello Pro Kenshuusei

Information
Joined
September 22, 2013
Generation
20th Generation
Graduated
December 29, 2014
Time in Group
1 Year, 3 Months, 8 Days

Haga's Autograph
"
In 10 years, I'll be 23. I want (to) stay in Morning Musume. And I want to look back when I'm 23 and be glad I worked hard. So I'm going to push myself harder in rehearsals.[1]
"

–Haga Akane, November 2015
Haga Akane (羽賀朱音) is a Japanese pop singer under Hello! Project as a 12th generation member of Morning Musume.[2] She initially joined Hello! Project on September 22, 2013 as a member of Hello Pro Kenshuusei,[2] after failing the first Morning Musume 12th generation audition.[3]
Biography
Edit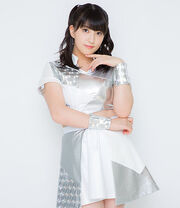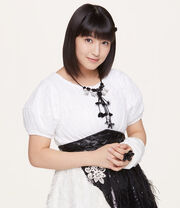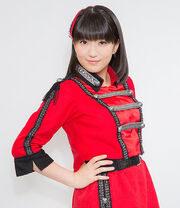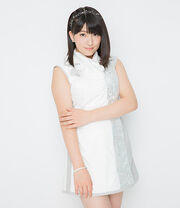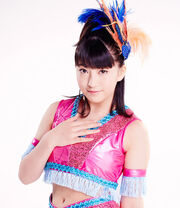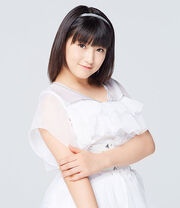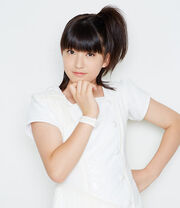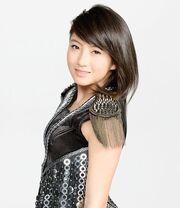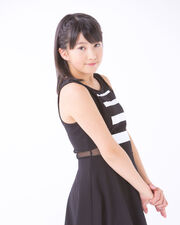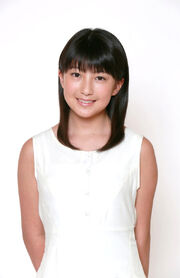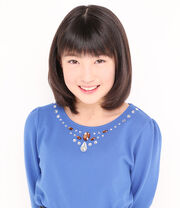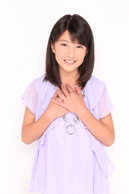 Early Life
Edit
Haga Akane was born on March 7, 2002 in Nagano, Nagano, Japan and raised in the Matsushiro district.
In 2006, during kindergarten, she wrote in a paper "I want to be in Morning Musume when I grow up."
In 2012, Haga auditioned the Morning Musume 11ki Member "Suppin Utahime" Audition, but failed to join the group.[4][5] After failing the audition, she took lessons in her hometown to improve her skill.[4]
In 2013, Haga auditioned the Morning Musume 12ki Member "Mirai Shoujo" Audition for a second opportunity to join Morning Musume.[5] She made it up to the final round, but on August 24, Tsunku announced via YouTube that they were not interested in adding any new members to the group, leading to Haga failing to join the group in the end along with 6 other finalists.[3]
On September 22, Haga joined Hello Pro Kenshuusei along with the other Mirai Shoujo finalists.[2] On the same day, an introduction of Haga was uploaded to the Hello Pro Kenshuusei YouTube channel.[6]
On December 7, Haga was officially introduced as a Hello Pro Kenshuusei at the Hello Pro Kenshuusei Happyoukai 2013 ~12gatsu no Nama Tamago Show!~, alongside Yamaki Risa, Yokogawa Yumei, Niinuma Kisora, Oura Hirona, Dambara Ruru and Funaki Musubu. All seven girls did a dance performance of Juice=Juice's debut single "Watashi ga Iu Mae ni Dakishimenakya ne".
On September 30, during the Morning Musume '14 Concert Tour Aki GIVE ME MORE LOVE ~Michishige Sayumi Sotsugyou Kinen Special~ at Nippon Budokan, it was announced that Haga was selected to join Morning Musume as a 12th generation member along with Ogata Haruna, Nonaka Miki and fellow Hello Pro Kenshuusei member Makino Maria,[2] subsequently leaving Hello Pro Kenshuusei.[7]
On January 4, Haga and and her fellow 12th generation members began a radio show on FM FUJI, titled Morning Musume '15 12ki Nikki.[8] They also began a web talk show exclusive to fanclub members on March 5, titled 12ki Relay.[9]
On March 30, Haga celebrated her 14th birthday at a fanclub event titled Morning Musume '16 Haga Akane Birthday Event, featuring two shows at TOKYO FM HALL.
On August 18, Haga released her first solo e-Hello! Blu-ray, Greeting ~Haga Akane~.
On February 16, the 12th generation's fanclub-exclusive web talk show 12ki Relay ended with a total of 100 episodes.[10]
On March 2, Haga was featured alongside Sasaki Rikako in the Graduation2017 Chuugaku Sotsugyou published by TOKYONEWS magazine&mook, a collection of interviews and gravure photos commemorating her and other idols' graduation from middle school.[11]
The 12th generation's radio show Morning Musume '17 12ki Nikki ended on March 26.[12]
On March 28, Haga celebrated her 15th birthday at a fanclub event titled Morning Musume '17 Haga Akane Birthday Event, featuring two shows at TOKYO FM HALL.
On April 6, the Morning Musume '17 12th generation and 13th generation members began a radio show on FM FUJI, titled Morning Musume '17 no Morning Diary.[13]
On March 27, Haga celebrated her 16th birthday at a fanclub event titled Morning Musume '18 Haga Akane Birthday Event, featuring two shows at TOKYO FM HALL.
On June 4, the 12th generation members held the Morning Musume '18 12ki Member Ogata Haruna・Nonaka Miki・Makino Maria・Haga Akane FC Event at Differ Ariake.
Personal Life
Edit
Haga has 2 siblings: a younger brother named Ryosei and a younger sister named Mitsuki. The three participated in the 58th annual Shinshuu / Matsushiro Domain "Sanada 100,000 Stone Festival" together, which took place on October 13, 2013. Haga played the role of a princess.[14]
When Haga joined Hello Pro Kenshuusei in September 2013, she was a sixth year elementary school student[4] attending Nagano Municipal Toyosaka Elementary School.[15] In that same year, Haga participated in the 36th Nagano Prefecture Book Review Contest.[16] She received silver in the 5th/6th grade division, first class.[16]
When she joined Morning Musume in September 2014, she was a first year middle school student.[2] She graduated from middle school on March 17, 2017.[17] As of April 2018, she is currently attending her second year of high school.
The following list are notable friendships Haga Akane has acquired:
Haga's given name, Akane, means "red" (朱; aka) combined with "sound" (音; ne). Her parents wanted to use the kanji for "ne", but they were also not sure whether to name her "Akane" or "Aoi".[21]
Haga Akane has been given several nicknames, which includes:
Akane-chin (あかねちん): Official nickname, given to her since joining Hello Pro Kenshuusei.
Haga-chan (羽賀ちゃん): Used by upperclassmen, members and fans.[18]
Hagaa (ハガー): Given to her by Tsunku during Morning Musume '14 Concert Tour Aki GIVE ME MORE LOVE ~Michishige Sayumi Sotsugyou Kinen Special~ show at Nippon Budokan on October 1, 2014.
Hime (姫), Hime-sama (姫様) and Akane-hime (あかね姫): Used by fans.[22] The nickname arose after videos and blogs relating to the 2013 Shinshuu / Matsushiro Domain "Sanada 100,000 Stone Festival" were found. Haga participated in the festival, in which she played the role of a princess.
Akane (朱音): Used by most people.[18]
Aka-chan: Used by Aikawa Maho.[verification needed]
Name: Haga Akane (羽賀朱音)
Official Nickname: Akane-chin (あかねちん)[23]
Birthplace: Nagano, Nagano, Japan[15]
Western Zodiac: Pisces
Eastern Zodiac: Horse
Height: 158.5cm[24]
Hello! Project Status:
Years in Morning Musume: 2 Years
Morning Musume Member Color:

Light Orange

Hello! Project Groups:
One-Shot Units:
Hobbies: Singing, sleeping, reading manga like Asari-chan[26]
Favorite Music Genres: I like any Hello! Project song
Favorite Sport: Golf
Motto: Kiwametai ongaku no sekai (極めたい音楽の世界; I want to reach the top of the world of music) from "The Matenrou Show"[26]
Favorite Color: Violet[26]
Favorite Subject: Art[18]
Least Favorite Subject: Physical education[28]
Favorite Manga: Asari-chan[18]
Favorite TV Shows: The Thundermans,[18] Sesame Street[18]
Favorite Morning Musume Songs: "Pyocopyoco Ultra",[28] "Tokimeku Tokimeke",[28] "Be Alive",[27] "Egao no Kimi wa Taiyou sa"[29]
Looks Up To: Fukuda Kanon, Miyamoto Karin, Kudo Haruka,[23] Tanaka Reina,[4] Takagi Sayuki,[23] Oda Sakura[23]
Discography
Edit
See also: List:Haga Akane Discography Featured In
Solo Blu-rays
Edit

Publications
Edit
See also: List:Haga Akane Publications Featured In
Solo Photobooks
Edit

TV Programs
Edit
Honorary Titles
Edit
References
Edit
External Links
Edit