Gu Yun
古筠
Background Information
Stage Name
Guu-chan
Also Known As
Guu-chan (グーチャン), Xiao Yun (小筠), Froggy
Born
December 14, 1996
Origin
Taiwan, China
Genres
C-Pop
Occupation
Singer, Idol, Dancer
Years Active
2008-2010
Associated Acts
Ice Creamusume
Guu-chan (グーチャン) (Real name: Gu Yun (古筠)) is a former member of the Hello! Project Taiwan group, Ice Creamusume, she was also the group's youngest member.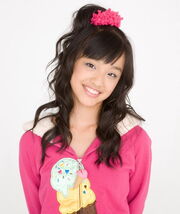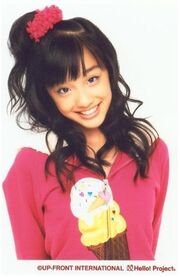 Before participating in the Hello! Project Taiwan audition, Guu-chan was part of a dance troupe that performed regularly. She was still a part of it while in Ice Creamusume, though didn't participate in all of their performances after being in the group. She was one of the four finalists chosen to become Ice Creamusume.
Due to being busy with school and her dedication to achieving good grades, she didn't blog very often and she wasn't always able to participate in Ice Creamusume activities.
Stage name: Guu-chan (グーチャン)
Real name: Gu Yun (古筠)
Taiwanese nickname: Xiao Yun (小筠), Froggy
Flavor (Member Color): Mango
Birthday: December 14, 1996
Astrological Sign: Aquarius
Blood type: O
Hello! Project Groups:
She graduated from Elementary School on June 12, 2009.
Her father was famous decathlete Ku Chin Shui, who passed away due to plasma cell leukemia on May 25, 2016.
She has said she is always happy and cheerful, and that she thinks she inherited her hyperactivity from her father.
She belonged to a dance troupe called Dong Shou Dong Jiao Er Tong Wu Tuan (動手動腳兒童舞團; Move Your Hands and Legs Children's Dance Troupe). They hold some popularity, and have appeared on television. (She appeared on TV with them before the NEW STAR auditions). Several other members from the troupe also participated in the NEW STAR auditions. The troupe also competes in dance competitions.
She appeared in the music video for Jolin Tsai's song "Let's Move It" with several other members of her dance troupe (before NEW STAR).
Ad blocker interference detected!
Wikia is a free-to-use site that makes money from advertising. We have a modified experience for viewers using ad blockers

Wikia is not accessible if you've made further modifications. Remove the custom ad blocker rule(s) and the page will load as expected.