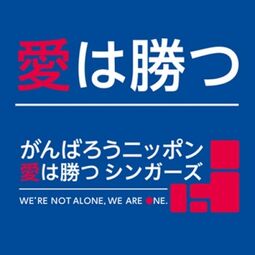 Ganbarou Nippon Ai Wa Katsu Singers (がんばろうニッポン「愛は勝つ」シンガーズ) is a mixed special unit composed of various talents from UP-FRONT PROMOTION . The unit was created after the 2011 Tohoku earthquake and tsunami as part of their charity project "Ganbarou Nippon Ai wa Katsu Project".
On April 5, 2011, Up-Front Agency started a earthquake relief group called "Gabaro Nippon Ai wa Katsu". They released a YouTube video of their cover of KAN's 1990 classic, "Ai wa Katsu". 131 members were involved in the recording of the song, including members and graduates of Hello! Project. The charity project managed to garner a total of 28,667,129 yen, and donated to the Japanese Red Cross.
Discography
Edit
External Links
Edit
Ad blocker interference detected!
Wikia is a free-to-use site that makes money from advertising. We have a modified experience for viewers using ad blockers

Wikia is not accessible if you've made further modifications. Remove the custom ad blocker rule(s) and the page will load as expected.