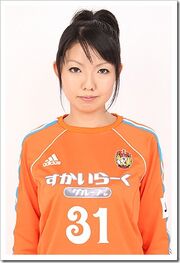 Fujisaki Hiromi (藤咲裕美) is a member of Hello! Project as a player for Gatas Brilhantes H.P. since 2007. Her current Gatas uniform number is #31. She is currently a reserve player.
Name: Fujisaki Hiromi (藤咲裕美)
Hello! Project Status:
Date Of Birth: July 11, 1985
Blood Type: B
Upon Fujisaki's joining of Gatas Brilhantes H.P., it was rumored that she was to be the replacement of Mano Erina.
She is one of just four girls who joined Hello! Project just be a part of Gatas Brilhantes H.P.
Ad blocker interference detected!
Wikia is a free-to-use site that makes money from advertising. We have a modified experience for viewers using ad blockers

Wikia is not accessible if you've made further modifications. Remove the custom ad blocker rule(s) and the page will load as expected.