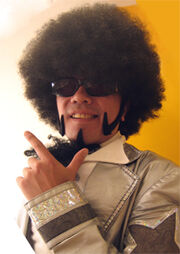 Fujisawa Hideki (藤沢秀樹), better known by his stage name DANCE☆MAN (ダンス☆マン) is a musician who has arranged Hello! Project songs off and on through most of its history, most heavily from 1999-2002. He both has releases under his own name and works on other artists' releases. LOVE Machine was the hit that first brought him significant attention.
As DANCE☆MAN he always appears in a fake afro, fake sideburns, and sunglasses; and claims to come from the planet Mirrorball.
THE BANDMAN
Edit
Often DANCE☆MAN's songs will credit the musical performance to DANCE☆MAN & THE BANDMAN, featuring more musicians operating under pseudonyms. Not all of THE BANDMAN members appear in every track, but ones noted to have worked on Hello! Project songs include:
Arrangement unless otherwise noted.
External Links
Edit
Ad blocker interference detected!
Wikia is a free-to-use site that makes money from advertising. We have a modified experience for viewers using ad blockers

Wikia is not accessible if you've made further modifications. Remove the custom ad blocker rule(s) and the page will load as expected.