Cutie Kankousha BUS TOUR In CHUKYO 2008 NO.01 (キューティー観光社 Bus Tour in CHUKYO 2008 No.01) is the first Cutie Kankousha Series. It was relsated September 2008.
Tracklist
Edit
Experienced recruitment expert (Okai, Arihara)
Bus tour first day · 8 SHOT
Cutie expert show
Featured Members
Edit
Special CD
Edit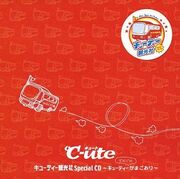 Cutie Kankousha BUS TOUR In CHUKYO Special CD ~Cute gudaguda ga magori~ (キューティー観光社 Special CD-キューティーぐだぐだがまごおり-) is ℃-ute's first special Cutie Kankousha CD, exclusive to fanclub members. It was released on May 27, 2008 at the event venue.
Ad blocker interference detected!
Wikia is a free-to-use site that makes money from advertising. We have a modified experience for viewers using ad blockers

Wikia is not accessible if you've made further modifications. Remove the custom ad blocker rule(s) and the page will load as expected.