Cutie Circuit 2007 ~MAGICAL CUTIE TOUR & September 10 is ℃-ute's Day~
Comments

0
Share
Ad blocker interference detected!
Wikia is a free-to-use site that makes money from advertising. We have a modified experience for viewers using ad blockers

Wikia is not accessible if you've made further modifications. Remove the custom ad blocker rule(s) and the page will load as expected.
Cutie Circuit 2007 ~MAGICAL CUTIE TOUR & 9gatsu 10ka wa ℃-ute no Hi~
(Cutie Circuit 2007〜MAGICAL CUTIE TOUR & 9月10日は℃-uteの日〜)
was
℃-ute
's 2007 Cutie Circuit concert. The concert DVD was filmed on August 24, 2007 at Shinagawa Stellar Ball. It was released on November 21, 2007. The photobook for the concert was released on October 4, 2007.
The DVD ranked at #10 on Oricon's DVD chart and sold a total of 6,729 copies.
Members featured in this release
Edit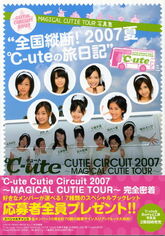 ℃-ute Cutie Circuit 2007 ~MAGICAL CUTIE TOUR~ Document
出発! (Departure!)
7月30日 横浜ブリッツ (2007.07.30 at Yokohama Blitz)
8月4日 イオン旭川西 (2007.08.04 at Ion Asahikawa Nishi)
8月5日 札幌STVホール (2007.08.05 at Sapporo STV Hall)
8月7日 イオン水戸 (2007.08.07 at Ion Mito)
8月9日 名古屋ダイアモンドホール (2007.08.09 at Nagoya Diamond Hall)
8月19日 広島クラブクアトロ (2007.08.19 at Hiroshima Club Quatro)
8月21日 なんばHatch (2007.08.21 at Nanba Hatch)
8月24日 MAGICAL CUTIE 感謝祭 (2007.08.24 at MAGICAL CUTIE Kanshasai)
8月24日 品川ステラボール (2007.08.24 at Shinagawa Stellar Ball)
℃-ute Cutie Circuit 2007 ~September 10 is ℃-ute's Day~
オープニング (Opening)
僕らの輝き (Bokura no Kagayaki) - Umeda Erika, Okai Chisato, Arihara Kanna
ENDLESS LOVE ~I Love You More~ - Yajima Maimi, Suzuki Airi
ディスコ クイーン (Disco Queen) - Nakajima Saki, Hagiwara Mai
MC1
桜チラリ (Sakura Chirari)
美少女心理 (Bishoujo Shinri)
第1回 ラブリーアイウエオ作文コーナー (Dai 1 Kai Lovely Eye Wear Sakubun Corner)
DJマイマイ・MCチッサー&MC O-suzコーナー (DJ Maimai, MC Chisaa, and MC O-suz's Corner)
都会っ子 純情 (Tokaikko Junjou)
めぐる恋の季節 (Meguru Koi no Kisetsu)
MC2
わっきゃない(Z) (Wakkyanai (Z))
まっさらブルージーンズ (Massara Blue Jeans)
JUMP
<ENCORE>
MC3
大きな愛でもてなして (Ooki na Ai de Motenashite)
Extras:
ツアーを振り返って ~インタビュー~ (Returning from Tour ~Interview~)
External Links
Edit