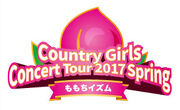 Country Girls Concert Tour 2017 Haru ~Momochi-ism~ (カントリー・ガールズ コンサートツアー2017春 〜ももちイズム〜) is Country Girls' 2017 spring concert tour and their first concert hall tour. It ran from April 9 to May 20, 2017.
The DVD and Blu-ray of the May 4 concert will be released on August 16, 2017. The Blu-ray includes a live photobooklet.
MC
BYE BYE Saigo no Yoru (4/9~4/22)
MC
MC
MC
Momochi! Zutto Otomomochi - Tsugunaga Momoko (5/4~5/20)
Kimama na Kataomoi - Tsugunaga Momoko (with other members as chorus) (5/4~5/20)
BYE BYE Saigo no Yoru (without Tsugunaga Momoko) (5/4~5/20)
MC
Itooshikutte Gomen ne
Encore
Idol Sotsugyou Chuuijikou (with Makoto reading the notes) (5/4~5/20)
MC
Featured Members
Edit
Special Guest
Concert Schedule
Edit
Date
Venue
Prefecture
Doors Open
Concert Starts
4/9
Zepp Namba
Osaka
17:00
18:00
4/22
Zepp Nagoya
Aichi
14:00
15:00
17:30
18:30
5/4
Nakano Sun Plaza
Tokyo
14:00
15:00
17:30
18:30
5/20
NHK Osaka Hall
Osaka
13:30
14:30
17:00
18:00
External Links
Edit
Ad blocker interference detected!
Wikia is a free-to-use site that makes money from advertising. We have a modified experience for viewers using ad blockers

Wikia is not accessible if you've made further modifications. Remove the custom ad blocker rule(s) and the page will load as expected.