Chelsea Ching

Background Information
Born
September 26, 1982
Origin
O'ahu, Hawaii, United States
Zodiac Sign
Libra
Height
5'6"
B-W-H
33-24-34 inches
Occupation
Singer, Actress, Model
Years Active
1999–2000
H!P Staus
Associated Acts
Coconuts Musume
Graduated
January 2000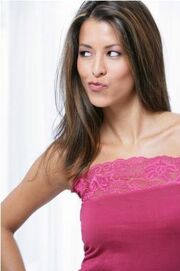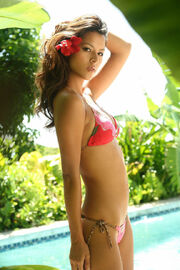 Chelsea Ching (in Japanese: チェルシー・チン, legal name: Chelsea Monroe[1]), mostly known as Chelsea in Japan, is the former leader of the Hello! Project group Coconuts Musume.
Biography
Edit
Chelsea was one of five girls chosen to form the group Coconuts Musume. Along with the other members, she flew to Japan and began recording with the group. Her outgoing and lively personality along with her strong vocals made her the leader of Coconuts Musume. She recorded five songs with them; Halation Summer, Summer Night Town (English Version), Dance & Chance, Dance & Chance (English Ver.) and Zurui Onna. After Coconuts Musume's second single, she decided to go back to Hawaii to finish High School.
After she left, Ayaka Kimura took over the role of the leader in Coconuts Musume.
Chelsea has since graduated with Honors from the University of California Santa Barbara with a degree in Psychology and a degree in Business Economics.
While attending school, she also managed a successful career as a model and even made an appearance on a reality television show called "Meet My Folks" that aired on NBC. She was also seen in the Hoku video "How Do I Feel?" and also has done a number of print ads, runway modeling and television appearances.
Upon returning home Chelsea, continued her acting/modeling career.
Name: Chelsea Ching (チェルシー・チン)
Birthday: September 26, 1982
Birthplace: O'ahu, Hawaii, United States
Hello! Project Groups:
Singles Featured In
Edit
Coconuts Musume
Edit
Honorary Titles
Edit
References
Edit
External Links
Edit