Ceng De Ping
曾德萍

2009
Background Information
Also Known As
Peipei (ペイペイ), Sha Bai (傻白)
Born
February 10, 1991
Origin
Taiwan, China
Blood Type
A
Zodiac Sign
Aquarius
Genres
C-Pop
Occupation
Singer
Years Active
2008-2010
Associated Acts
Ice Creamusume
Member Color
vanilla
Left
2010

Peipei's Autograph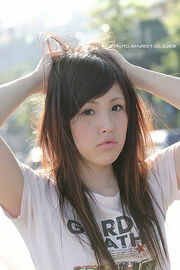 Peipei (ペイペイ) (Real name: Ceng De Ping (曾德萍)), also known as Sha Bai (傻白), is a former member of the Hello! Project Taiwan group Ice Creamusume.
Peipei had some modelling experience before participating in the Taiwanese Hello! Project audition. She was one of the finalists chosen to become Ice Creamusume. Before the final aired, she leaked Morning Musume's Ame no Furanai Hoshi ni wa Aisenai Darou? on her blog. Her flavor comes from the fact that her skin is particularly white. Her Taiwanese nickname also shows this. In the group, she had a more boyish image. At school, she is one year behind because she started school late.
In 2011, she married Chester Chen but got divorced several months later.
In March 2015, she married Hao Ran Pong and has a son.
Real name: Ceng De Ping (曾德萍; Tseng Te-ping)
Taiwanese nickname: Sha Bai (傻白)
Japanese nickname: Peipei (ペイペイ)
Flavor (Member Color):

Vanilla

Birthday: February 10, 1991
Astrological Sign: Aquarius
Blood type: A
Favourite artists: Takahashi Ai,  BoA, SHE
Hello! Project Groups:
She has a younger sister.
She (and her family) are of a Taiwanese aboriginal tribe called the Ah Miz (Amis).
Previous to winning New Star, she caused controversy by leaking Morning Musume's Ame no Furanai Hoshi de wa Aisenai Darou? to fans.
She is part of a "family" (started on the girl's blogs) consisting of her (Father, Shin-chan), Youko (Mother, Minnie), Reirei (Daughter, Positive), and sometimes Aiko (another Daughter).
She did some amateur modeling before NEW STAR and Ice Creamusume.
External Links
Edit