Ad blocker interference detected!
Wikia is a free-to-use site that makes money from advertising. We have a modified experience for viewers using ad blockers

Wikia is not accessible if you've made further modifications. Remove the custom ad blocker rule(s) and the page will load as expected.
Berryz Koubou Spring Concert Tour 2012 ~Berryz Station~ (Berryz工房コンサートツアー2012春~ベリーズステーション~) is Berryz Koubou's 2012 Spring concert tour. It began on March 3, 2012, the 8th anniversary of Berryz Koubou's formation. It featured songs from their new album Ai no Album ⑧. The DVD and Blu-ray were released on August 8, 2012.
Tracklist
Edit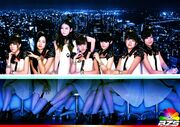 OPENING
VTR
MC
MC
Renai Moyo – Tokunaga Chinami, Sudo Maasa, Kumai Yurina, Sugaya Risako
Atarashi Hibi - Shimizu Saki, Tsugunaga Momoko, Natsuyaki Miyabi
MC (Berryz Oogiri STATION) - Sudo Maasa + Shimizu Saki, Tsugunaga Momoko, Tokunaga Chinami, Natsuyaki Miyabi
Happiness ~Koufuku Kangei!~ – Kumai Yurina, Sugaya Risako
Koi no Jubaku - Shimizu Saki, Tsugunaga Momoko
MC (Berryz KIDS STATION) ~ Momochi! Yurushite Nyan♡Taiso - Shimizu Saki, Tsugunaga Momoko
MC (Berryz Houdou STATION) – Tokunaga Chinami, Sudo Maasa, Natsuyaki Miyabi
Special Generation – Tokunaga Chinami, Sudo Maasa, Natsuyaki Miyabi
Encore
MC
Extra Footage
Edit
From the afternoon concert
Concert Schedule
Edit
Date
Venue
Doors Open
Concert Starts
3/3
Harmony Hall

(Kanagawa)

13:00
14:00
16:30
17:30
3/4
13:00
14:00
16:30
17:30
3/20
NHK Osaka Hall

(Osaka)

14:00
15:00
17:30
18:30
3/24
Urayasu Shi Bunka Kaikan

(Chiba)

14:00
15:00
17:30
18:30
4/1
Yokosuka Geijutsu Gekijou

(Kanagawa)

14:00
15:00
17:30
18:30
4/7
Shibuya Koukaidou

(Tokyo)

14:00
15:00
17:30
18:30
4/8
Aurora Hall

(Aichi)

14:00
15:00
17:30
18:30
4/28
Nakano Sunplaza

(Tokyo)

14:00
15:00
17:30
18:30
4/29
13:00
14:00
16:30
17:30
| Mon | Tue | Wed | Thu | Fri | Sat | Sun | Week Rank | Sales |
| --- | --- | --- | --- | --- | --- | --- | --- | --- |
| - | 6 | 7 | 13 | 12 | 14 | - | 10 | 1,738 |
| - | - | - | - | - | - | - | - | 427 |
Total Reported Sales: 2,165
Blu-ray
| Mon | Tue | Wed | Thu | Fri | Sat | Sun | Week Rank | Sales |
| --- | --- | --- | --- | --- | --- | --- | --- | --- |
| - | 3 | 6 | - | - | 8 | - | 8 | 1,627 |
Total Reported Sales: 1,627
External Links
Edit
Berryz Koubou
Concerts & Events

Concerts

Spring Tours: 2006 | 2007 | 2009 | 2011 | 2012 | 2013 | 2014


Summer Tours: 2005 | 2006 | 2007 | 2010
Fall Tours: 2005 | 2008 | 2009 | 2010 | 2013 | 2014
Other: 2007 | 2010 (Bangkok, Festival) | 2011 (Sakura-Con, Tanabata) | 2012 (AnimeNEXT, Tanabata) | 2013 (Bangkok, Tanabata) | 2014 (Tanabata, Budokan, Naruchika) | 2015 (Matsuri, Ikube!)

Other Concerts & Events
Joint Concerts
Spring Tours: 2008 (with ℃-ute)


Summer Tours: 2004 (with W) | 2005 (with W)
Fall Tours: 2011 (with ℃-ute) | 2013 (with Juice=Juice)
Other: 2014 (with ℃-ute)

Hello! Project Concerts
Summer Tours: 2009 | 2010 | 2011 (WOW WOW, YEAH YEAH) | 2012 (Ktkr, Wkwk) | 2013 (Sorezore!, Mazekoze!) | 2014


Winter Tours: 2010 (Mobekimasu!) | 2011 (A-gana, B-kkuri) | 2012 (Funky-chan, Rock-chan) | 2013 (Viva!, Bravo!) | 2014 (GOiSU MODE, DE-HA MiX) | 2015
Hina Fest: 2013 (Zen'yasai, Berryz Koubou 10 Nenme Totsunyuu Special, Thank You For Your Love!) | 2014
Other Concerts: Hello! Project ☆ Festival 2011 | Hello! Project Yaon Premium Live ~Soto Fest~ | Hello! Project COUNTDOWN PARTY 2013 ~GOOD BYE & HELLO!~ | Hello! Project COUNTDOWN PARTY 2014 ~GOOD BYE & HELLO!~