Berryz Koubou Concert Tour 2009 Haru ~Sono Subete no Ai ni~
Comments

0
Share
Ad blocker interference detected!
Wikia is a free-to-use site that makes money from advertising. We have a modified experience for viewers using ad blockers

Wikia is not accessible if you've made further modifications. Remove the custom ad blocker rule(s) and the page will load as expected.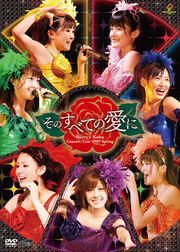 Berryz Koubou Concert Tour 2009 Haru ~Sono Subete no Ai ni~
(Berryz工房コンサートツアー2009春 ~そのすべての愛に~) was
Berryz Koubou
's 2009 Spring concert tour. The concert DVD was filmed on May 17, 2009 at Tokyo Kousei Nenkin Kaikan. It will be released on July 29, 2009.
The DVD sold 6,767 copies and ranked at #10.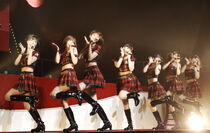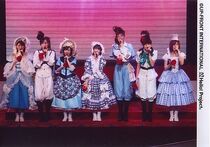 Information
Edit
On March, 22th Sugaya Risako and Natsuyaki Miyabi got sick, because of that the concert on Aichi-ken got delayed to May 6th.
Later, on April 5th fans reported that Tokunaga Chinami collapsed on stage. A short while after Chinami collapsed, fellow member Tsugunaga Momoko came out and said that "Chinami just got over enthusiastic and used up too much energy, but she will be fine".
During their spring concert ~Sono Subete no Ai ni~, the girls celebrated their 100th concert on April 25, 2009 at Tochigi night. In this, they showed a recap video with the song "Bye Bye Mata ne" counting up from their 1st concert to their 100th (the list didn't include joint concerts).
OPENING ~ Dakishimete Dakishimete
MC1
VTR - Member Introduction
Gag 100kaibun Aishite Kudasai (Acapella and Voice Percussion)
MC2
MC3 - Shimizu Saki, Tsugunaga Momoko, Sudo Maasa
Joshi Basket bu ~Asaren Atta Hi no Kamigata~ -Tokunaga Chinami, Sudo Maasa (with Tsugunaga Momoko, Kumai Yurina)-
Aitai Kedo... -Tsugunaga Momoko, Kumai Yurina (with Tokunaga Chinami, Sudo Maasa)-
MC4 - Tokunaga Chinami, Kumai Yurina, Sugaya Risako
MC5
<ENCORE>
<W-ENCORE>
MC5
<SP>
BK 100th con - Bye Bye Mata ne
External Links
Edit
Berryz Koubou
Concerts & Events

Concerts

Spring Tours: 2006 | 2007 | 2009 | 2011 | 2012 | 2013 | 2014


Summer Tours: 2005 | 2006 | 2007 | 2010
Fall Tours: 2005 | 2008 | 2009 | 2010 | 2013 | 2014
Other: 2007 | 2010 (Bangkok, Festival) | 2011 (Sakura-Con, Tanabata) | 2012 (AnimeNEXT, Tanabata) | 2013 (Bangkok, Tanabata) | 2014 (Tanabata, Budokan, Naruchika) | 2015 (Matsuri, Ikube!)

Other Concerts & Events
Joint Concerts
Spring Tours: 2008 (with ℃-ute)


Summer Tours: 2004 (with W) | 2005 (with W)
Fall Tours: 2011 (with ℃-ute) | 2013 (with Juice=Juice)
Other: 2014 (with ℃-ute)

Hello! Project Concerts
Summer Tours: 2009 | 2010 | 2011 (WOW WOW, YEAH YEAH) | 2012 (Ktkr, Wkwk) | 2013 (Sorezore!, Mazekoze!) | 2014


Winter Tours: 2010 (Mobekimasu!) | 2011 (A-gana, B-kkuri) | 2012 (Funky-chan, Rock-chan) | 2013 (Viva!, Bravo!) | 2014 (GOiSU MODE, DE-HA MiX) | 2015
Hina Fest: 2013 (Zen'yasai, Berryz Koubou 10 Nenme Totsunyuu Special, Thank You For Your Love!) | 2014
Other Concerts: Hello! Project ☆ Festival 2011 | Hello! Project Yaon Premium Live ~Soto Fest~ | Hello! Project COUNTDOWN PARTY 2013 ~GOOD BYE & HELLO!~ | Hello! Project COUNTDOWN PARTY 2014 ~GOOD BYE & HELLO!~