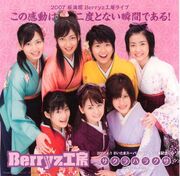 Berryz Koubou Concert 2007 Haru ~ Zoku・Sakura Mankai Golden Week Hen ~
(Berryz工房コンサート2007春 ~ 続・桜満開 ゴールデンウィーク編 ~) is
Berryz Koubou
's Spring Concert Tour and was a completion tour of their
Berryz Koubou Live 2007 Sakura Mankai ~Kono Kandou wa Nidoto Nai Shunkan de Aru~
concert. Even though the majority of the concerts are similar, it was still counted as a different concert. This was never released on DVD.
Set List
Edit
Jiriri Kiteru (ジリリ キテル)
Special Generation (スッペシャル ジェネレ~ション)
BERRY FIELDS (VTR Opening)
MC1
Gag 100kaibun Aishite Kudasai (ギャグ100回分愛してください)
安心感 (Anshinkan)
Sakura wa Raku sa (サクラハラクサ) (noon) & Sakura→Nyuugakushiki (桜→入学式) (evening)
MC2
Nicchoku ~Geinoujin no Kaiwa~ (日直 ~芸能人の会話~) - Kumai Yurina & Tokunaga Chinami
Koi wa Hipparidako (恋はひっぱりだこ) - Tsugunaga Momoko
Toshoshitsu Taiki (図書室待機) - Shimizu Saki, Sudo Maasa & Natsuyaki Miyabi
Aisuru hito no Namae wo Nikki ni (愛する人の名前を日記に) - Sugaya Risako
Suhada Pichipichi (素肌ピチピチ)
TODAY IS MY BIRTHDAY
Arigatou! Otomodachi. (ありがとう!おともだち。) VTR
Anata Nashide wa Ikite Yukenai (あなたなしでは生きてゆけない)
Fighting Pose wa Date ja nai! (ファイティングポーズはダテじゃない!)
Piriri to Yukou! (ピリリと行こう!)
Aitai Kedo... (会いたいけど…)
Munasawagi Scarlet (胸騒ぎスカーレット)
Nanchuu Koi wo Yatteruu YOU KNOW? (なんちゅう恋をやってるぅ YOU KNOW?)
Yuujou Junjou oh Seishun (友情 純情 oh 青春)
Encore
Koi no Jubaku (恋の呪縛)
MC3
Bye Bye Mata ne (Bye Bye またね)
Concert Schedule
Edit
| Date | Time | Place |
| --- | --- | --- |
| 2007-05-04 | 15:30 | Aichi,Nagoya |
| 2007-05-04 | 19:00 | Aichi,Nagoya |
| 2007-05-05 | 15:00 | Osaka |
| 2007-05-05 | 18:30 | Osaka |
Ad blocker interference detected!
Wikia is a free-to-use site that makes money from advertising. We have a modified experience for viewers using ad blockers

Wikia is not accessible if you've made further modifications. Remove the custom ad blocker rule(s) and the page will load as expected.