Berryz Koubou & ℃-ute Nakayoshi Battle Concert Tour 2008 Haru ~Berryz Kamen vs Cutie Ranger~
Comments

0
Share
Ad blocker interference detected!
Wikia is a free-to-use site that makes money from advertising. We have a modified experience for viewers using ad blockers

Wikia is not accessible if you've made further modifications. Remove the custom ad blocker rule(s) and the page will load as expected.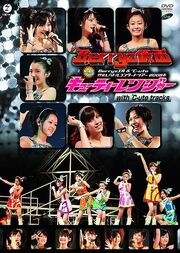 Berryz Koubou & ℃-ute Nakayoshi Battle Concert Tour 2008 Haru ~Berryz Kamen vs Cutie Ranger~
(Berryz工房&℃-ute 仲良しバトルコンサートツアー2008春 ~Berryz仮面 vs キューティーレンジャー~) was
Berryz Koubou
and
℃-ute
's joint 2008 Spring concert tour. The concert DVD was filmed on April 20, 2008 at Yokohama Arena. It was released as two separate DVDs that featured performances focusing solely on either group. The DVD with ℃-ute tracks was released on July 9, 2008 and the DVD with Berryz Koubou tracks was released on July 16, 2008.
A document photobook and a stage photobook were released for the concert on July 4, 2008.
OPENING
Darling I LOVE YOU
VTR - Member Introduction
MC1
Namida no Iro - ℃-ute
Munasawagi Scarlet - Berryz Koubou
LALALA Shiawase no Uta - ℃-ute
Dschinghis Khan - Berryz Koubou
Tokaikko Junjou - ℃-ute
Tsukiatteru no ni Kataomoi - Berryz Koubou
Sayonara Hageshiki Koi - Shimizu Saki, Tsugunaga Momoko, Natsuyaki Miyabi, Yajima Maimi, Nakajima Saki, Hagiwara Mai
MC2 - Shimizu Saki, Tsugunaga Momoko, Natsuyaki Miyabi, Tension Ageko, Yajima Maimi, Nakajima Saki, Hagiwara Mai
That's the POWER - Berryz Koubou, ℃-ute (sans Buono! )
Do Don ga Don Ondo - Berryz Koubou, ℃-ute (sans Buono!)
Honto no Jibun - Buono!
Ren'ai♥Rider - Buono!
Natsu DOKI Lipstick - Yajima Maimi (with Shimizu Saki, Nakajima Saki)
MC3
ENCORE
MC4: Skit "Music Vaccum Genru!" (寸劇「ミュージックバキューマー現る!」)
Warera! Berryz Kamen and Cutie Ranger (我ら! Berryz仮面・キューティーレンジャー)
MC5
Featured Members
Edit
°C-ute tracks
| Mon | Tue | Wed | Thu | Fri | Sat | Sun | Week Rank | Sales |
| --- | --- | --- | --- | --- | --- | --- | --- | --- |
| - | 1 | 2 | 2 | 3 | 2 | 6 | 2 | 8,880 |
| 6 | 17 | 14 | 16 | - | 18 | - | 18 | 1,048 |
| - | - | - | - | - | - | - | 46 | 469 |
| - | - | - | - | - | - | - | 45 | 413 |
Total Reported Sales: 10,810
Berryz Koubou tracks
| Mon | Tue | Wed | Thu | Fri | Sat | Sun | Week Rank | Sales |
| --- | --- | --- | --- | --- | --- | --- | --- | --- |
| - | 3 | 3 | 6 | 6 | 6 | 8 | 3 | 7,313 |
| 10 | 17 | 17 | - | 16 | 16 | - | 19 | 1,203 |
| - | - | - | - | - | - | - | 30 | 635 |
Total Reported Sales: 9,151
External Links
Edit