Berryz Koubou & ℃-ute Collaboration Concert Tour 2011 Autumn ~BeriKyuu Island~
Comments

0
Share
Ad blocker interference detected!
Wikia is a free-to-use site that makes money from advertising. We have a modified experience for viewers using ad blockers

Wikia is not accessible if you've made further modifications. Remove the custom ad blocker rule(s) and the page will load as expected.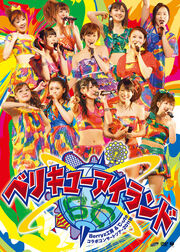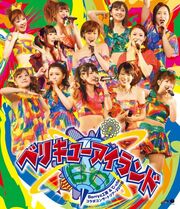 Berryz Koubou & ℃-ute Collaboration Concert Tour 2011 Autumn ~BeriKyuu Island~ (Berryz工房&℃-ute コラボコンサートツアー2011秋~ベリキューアイランド~) is ℃-ute and Berryz Koubou's joint 2011 Fall concert tour. The DVD and blu-ray were released on February 29, 2012.
The DVD ranked at #14 and sold 3,157 copies, while the blu-ray ranked at #7 and sold 2,582 copies.
Jet Coaster Medley:
VTR
MC1
MC2 (Berryz Koubou theme talk) – ℃-ute
MC3 (℃-ute theme talk) – Berryz Koubou
VTR – Ousama Game Ousama Game corner: A song is requested, they do a drawing, whoever's number is pulled is "king"
Makeruna Wasshoi! – Kumai Yurina, Sudo Maasa, Yajima Maimi, Nakajima Saki, Shimizu Saki, Sugaya Risako, Hagiwara Mai, Okai Chisato, Tokunaga Chinami
Seishun Song – Hagiwara Mai, Sugaya Risako, Okai Chisato, Natsuyaki Miyabi, Nakajima Saki, Kumai Yurina–> All
Encore
Kiss me Aishiteru – Berryz Koubou (with ℃-ute as backdancers)
MC5
Amazuppai Haru ni Sakura Saku – Berikyuu
Members Featured
Edit
External Links
Edit
Berryz Koubou
Concerts & Events

Concerts

Spring Tours: 2006 | 2007 | 2009 | 2011 | 2012 | 2013 | 2014


Summer Tours: 2005 | 2006 | 2007 | 2010
Fall Tours: 2005 | 2008 | 2009 | 2010 | 2013 | 2014
Other: 2007 | 2010 (Bangkok, Festival) | 2011 (Sakura-Con, Tanabata) | 2012 (AnimeNEXT, Tanabata) | 2013 (Bangkok, Tanabata) | 2014 (Tanabata, Budokan, Naruchika) | 2015 (Matsuri, Ikube!)

Other Concerts & Events
Joint Concerts
Spring Tours: 2008 (with ℃-ute)


Summer Tours: 2004 (with W) | 2005 (with W)
Fall Tours: 2011 (with ℃-ute) | 2013 (with Juice=Juice)
Other: 2014 (with ℃-ute)

Hello! Project Concerts
Summer Tours: 2009 | 2010 | 2011 (WOW WOW, YEAH YEAH) | 2012 (Ktkr, Wkwk) | 2013 (Sorezore!, Mazekoze!) | 2014


Winter Tours: 2010 (Mobekimasu!) | 2011 (A-gana, B-kkuri) | 2012 (Funky-chan, Rock-chan) | 2013 (Viva!, Bravo!) | 2014 (GOiSU MODE, DE-HA MiX) | 2015
Hina Fest: 2013 (Zen'yasai, Berryz Koubou 10 Nenme Totsunyuu Special, Thank You For Your Love!) | 2014
Other Concerts: Hello! Project ☆ Festival 2011 | Hello! Project Yaon Premium Live ~Soto Fest~ | Hello! Project COUNTDOWN PARTY 2013 ~GOOD BYE & HELLO!~ | Hello! Project COUNTDOWN PARTY 2014 ~GOOD BYE & HELLO!~
℃-ute
Concerts & Events

Concerts

Spring Tours: 2007 (Hajimatta yo! Cutie Show, Golden Hatsu Date) | 2009 | 2010 | 2011 | 2012 | 2013 | 2014 | 2015 | 2016


Summer Tours: 2008 | 2009 | 2010
Fall Tours: 2007 | 2013 (Budokan, Regular Tour) | 2014 | 2015 | 2016
Winter Tours: 2012-2013 | 2017
Other: 2006 | 2007 | 2008 (LOVE Escalation!, ℃-ute no Hi) | 2009 (℃-ute no Hi, FIVE) | 2010 | 2011 (Kiss me Aishiteru, ℃-ute no Hi) | 2012 | 2013 | 2014 (Spring Naruchika, Taipei, ℃-ute no Hi, Fall Naruchika) | 2015 (Spring Naruchika, ℃-ute no Hi, Mexico, Winter Naruchika) | 2016 (Hong Kong & Taipei) | 2017 (Naruchika)

Other Concerts & Events
Joint Concerts
Spring Tours: 2008 (with Berryz Koubou) | 2011 (with S/mileage)


Fall Tours: 2011 (with Berryz Koubou) | 2013 (with S/mileage)
Other: 2014 (with Berryz Koubou)

Hello! Project Concerts
Summer Tours: 2009 | 2010 | 2011 (WOW WOW, YEAH YEAH) | 2012 (Ktkr, Wkwk) | 2013 (Sorezore!, Mazekoze!) | 2014 | 2015 | 2016


Winter Tours: 2010 (Mobekimasu!) | 2011 (A-gana, B-kkuri) | 2012 (Funky-chan, Rock-chan) | 2013 (Viva!, Bravo!) | 2014 (GOiSU MODE, DE-HA MiX) | 2015 | 2016 | 2017
Hina Fest: 2013 (Zen'yasai, Berryz Koubou 10 Nenme Totsunyuu Special, Thank You For Your Love!) | 2014 | 2015 | 2016
Other Concerts: Hello! Project ☆ Festival 2011 | Hello! Project Yaon Premium Live ~Soto Fest~ | Hello! Project COUNTDOWN PARTY 2013 ~GOOD BYE & HELLO!~ | Hello! Project COUNTDOWN PARTY 2014 ~GOOD BYE & HELLO!~ | Berryz Koubou Matsuri | Hello! Project COUNTDOWN PARTY 2015 ~GOOD BYE & HELLO!~