Balalaika (バラライカ) is the 2nd single by Tsukishima Kirari staring Kusumi Koharu (Morning Musume). It was released on October 25, 2006 in both limited and regular editions. The limited edition came with a Super Corabo Mirufii card. The limited and first press release of the regular came with a special sticker.
The Single V was released on November 8, 2006. It sold 7,720 copies and peaked at #6 on the Oricon charts.
Balalaika was used as the 2nd opening for the anime Kirarin☆Revolution, and Mizuiro Melody was used as the 3rd ending theme for the same anime.
Tracklist
Edit
Balalaika
Mizuiro Melody (水色メロディ; Light Blue Melody)
Balalaika (Instrumental)
Balalaika
Balalaika (Dance Shot Ver.)
Making of (メイキング映像)
TV Performances
Edit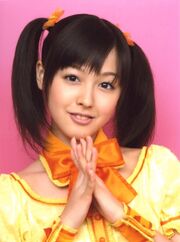 Concert Performances
Edit
Balalaika
Single Information
Edit
Balalaika

Lyrics: BULGE
Music: Sako Shigeki
Arrangement: Sako Shigeki
Chorus: Takao Naoki, Suyami Chieko, Ninita
Dance Choreography: YOSHIKO
Music Video: Kawatani Hideo

Mizuiro Melody

Lyrics: Furuya Shin
Music: Kurosu Katsuhiko
Arrangement and Guitar: Kato Daisuke
Chorus: Mao
Daily & Weekly Ranking
Mon
Tue
Wed
Thu
Fri
Sat
Sun
Week Rank
Sales
-
9
8
8
7
6
6
8
28,132
9
19
20
17
11
12
9
15
10,454
14
23
27
25
26
17
16
24
5,448
22
42
43
39
30
23
21
30
3,404
26
-
-
33
50
35
30
51
2,716
48
-
-
-
-
40
33
67
1,654
-
-
-
-
-
-
-
93
1,536
-
-
50
-
46
39
44
58
1,751
-
50
45
46
34
35
34
44
2,268
34
40
-
43
44
46
47
46
3,673
40
42
35
49
48
32
35
22
49
50
-
-
32
42
52
1,618
-
-
-
-
-
38
34
66
1,274
-
-
-
-
-
-
-
101
1,128
-
-
-
-
-
41
33
77
1,364
44
-
-
-
-
38
43
84
1,310
44
-
-
-
-
50
47
82
1,267
-
-
-
-
-
-
-
107
1,132
-
-
-
-
-
-
-
123
845
-
-
-
-
-
-
-
158
553
-
-
-
-
-
-
-
177
426
-
-
-
-
-
-
-
Outside Top 200
-
-
-
-
-
-
-
200
392
-
-
-
-
-
-
-
196
364
Yearly Ranking
| Year | Year Rank | Sales |
| --- | --- | --- |
| 2006 | 168 | 53,344 |
| 2007 | 400 | 19,365 |
Total Reported Sales: 72,709
External Links
Edit
Kirarin☆Revolution
Groups
&
Members

Tsukishima Kirari starring Kusumi Koharu (Morning Musume)
Kira☆Pika: Kusumi Koharu as Kira, Hagiwara Mai as Pika
MilkyWay: Kusumi Koharu as Tsukishima Kirari, Kitahara Sayaka as Yukino Noel, Kikkawa Yuu as Hanasaki Cobeni
SHIPS: Ide Takuya as Kazama Hiroto, Kanai Shikou as Hiwatari Seiji
Singles

Tsukishima Kirari: 1, 2, 3, 4, 5, 6
Kira☆Pika: 1
MilkyWay: 1, 2
SHIPS: 1, 2
Other: Ooki na Ai de Motenashite by ℃-ute
Albums

☆☆☆ (Mitsuboshi), Kirarin☆Land, Kirari to Fuyu
Mini: Song Selection, Song Selection 2, Song Selection 3, Song Selection 4, Song Selection 5
Best: Best☆Kirari
Other

Kirarin☆Revolution Final Stage