Ad blocker interference detected!
Wikia is a free-to-use site that makes money from advertising. We have a modified experience for viewers using ad blockers

Wikia is not accessible if you've made further modifications. Remove the custom ad blocker rule(s) and the page will load as expected.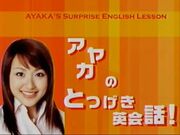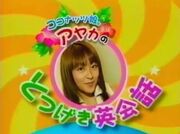 Ayaka's Surprise English Lessons (アヤカのとつげき英会話; Ayaka no Totsugeki Eikaiwa) was a segment that first ran on the TV Tokyo show Bishoujo Kyouiku in 2001, then returned for Bishoujo Kyouiku II in 2002. It was hosted by Coconuts Musume member Ayaka Kimura who speaks fluently in both English and Japanese.
In the segment, Ayaka would wait backstage in TV Tokyo building to surprise members of Morning Musume with an English lesson, teaching them English phrases or testing their communication skills. She would say a phrase and they would attempt to repeat it back. Early on in the series she would surprise them again a couple months later with a test to see if they remembered their phrases. Later she would entice them with games, treats and rewards (usually something to eat).
There are 206 lessons in total, with a combined length of 6 hours, 25 minutes and 33 seconds. Each lasting a minute or two.
| | | | | | |
| --- | --- | --- | --- | --- | --- |
| # | Date | Title | Person | Type | Length |
| 1 | 2001-04-02 | Where is the bus stop? | Yaguchi Mari | Listen and Repeat | 1:24 |
| 2 | 2001-04-03 | I don't have any small bills. | Iida Kaori | Listen and Repeat | 1:53 |
| 3 | 2001-04-04 | What's the fastest way to go to downtown? | Ishikawa Rika | Listen and Repeat | 1:33 |
| 4 | 2001-04-05 | Could you hurry, please? | Nakazawa Yuko | Listen and Repeat | 1:35 |
| 5 | 2001-04-06 | Which bus goes to the Hyatt Hotel? | Kago Ai | Listen and Repeat | 1:20 |
| 6 | 2001-04-09 | Is there anyone who can speak Japanese? | Abe Natsumi | Listen and Repeat | 1:33 |
| 7 | 2001-04-10 | Where are we on this map? | Yaguchi Mari | Listen and Repeat | 1:33 |
| 8 | 2001-04-11 | How long does it take if you walk? | Nakazawa Yuko | Listen and Repeat | 1:27 |
| 9 | 2001-04-12 | Are you familiar around this area? | Tsuji Nozomi | Listen and Repeat | 1:22 |
| 10 | 2001-04-13 | I'm looking for a hotel with good security. | Ishikawa Rika | Listen and Repeat | 1:20 |
| 11 | 2001-04-16 | I want to stay at a reasonably priced hotel. | Kago Ai | Listen and Repeat | 1:41 |
| 12 | 2001-04-17 | Can you please draw a map for me? | Tsuji Nozomi | Listen and Repeat | 1:43 |
| 13 | 2001-04-18 | How do I get there? | Abe Natsumi | Listen and Repeat | 1:40 |
| 14 | 2001-04-19 | Where is the information counter? | Iida Kaori | Listen and Repeat | 1:12 |
| 15 | 2001-04-23 | What is the next stop? | Tsuji Nozomi | Listen and Repeat | 1:22 |
| 16 | 2001-04-24 | Where shall we go for dinner? | Iida Kaori | Listen and Repeat | 1:22 |
| 17 | 2001-04-25 | Is there a hospital nearby? | Yasuda Kei | Listen and Repeat | 1:42 |
| 18 | 2001-04-26 | This is a bit expensive. | Yoshizawa Hitomi | Listen and Repeat | 1:09 |
| 19 | 2001-04-27 | What's the name of this place? | Goto Maki | Listen and Repeat | 1:17 |
| 20 | 2001-04-30 | I'll get off here. | Ishikawa Rika | Listen and Repeat | 1:01 |
| 21 | 2001-05-01 | Could you give me a discount? | Kago Ai | Listen and Repeat | 1:07 |
| 22 | 2001-05-02 | May I use the phone? | Tsuji Nozomi | Listen and Repeat | 1:07 |
| 23 | 2001-05-03 | Where is the nearest subway station? | Yaguchi Mari | Listen and Repeat | 1:39 |
| 24 | 2001-05-07 | I can't find my way around. | Yoshizawa Hitomi | Listen and Repeat | 1:05 |
| 25 | 2001-05-08 | Do you have cheaper ones? | Yasuda Kei | Listen and Repeat | 1:24 |
| 26 | 2001-05-09 | May I have the bill, please? | Iida Kaori | Listen and Repeat | 1:08 |
| 27 | 2001-05-10 | I'll take this one, please. | Ishikawa Rika | Listen and Repeat | 1:16 |
| 28 | 2001-05-14 | Which direction is north? | Kago Ai | Listen and Repeat | 0:59 |
| 29 | 2001-05-15 | May I take this seat? | Goto Maki | Listen and Repeat | 1:22 |
| 30 | 2001-05-16 | May I have a pair of chopsticks? | Yaguchi Mari | Listen and Repeat | 1:06 |
| 31 | 2001-05-17 | Could you speak a little slower, please? | Abe Natsumi | Listen and Repeat | 1:19 |
| 32 | 2001-05-28 | I'm just looking. | Yaguchi Mari | Listen and Repeat | 1:00 |
| 33 | 2001-05-29 | I'll take this one, please. | Abe Natsumi | Listen and Repeat | 0:59 |
| 34 | 2001-05-30 | Is it far from here? | Yoshizawa Hitomi | Listen and Repeat | 0:59 |
| 35 | 2001-05-31 | What kind of dessert do you have? | Kago Ai | Listen and Repeat | 1:04 |
| 36 | 2001-06-01 | I think this is too expensive. | Iida Kaori | Listen and Repeat | 1:30 |
| 37 | 2001-06-04 | It's too cold in this room. | Yasuda Kei | Listen and Repeat | 1:09 |
| 38 | 2001-06-05 | I'd like to take this out. | Goto Maki | Listen and Repeat | 1:21 |
| 39 | 2001-06-06 | May I have a receipt, please? | Iida Kaori | Listen and Repeat | 1:02 |
| 40 | 2001-06-07 | When is the next train coming? | Ishikawa Rika | Listen and Repeat | 1:10 |
| 41 | 2001-06-08 | I'll have one of this, please. | Kago Ai | Listen and Repeat | 1:05 |
| 42 | 2001-06-11 | Am I headed for the right direction? | Ishikawa Rika | Listen and Repeat | 1:24 |
| 43 | 2001-06-12 | Does this bus stop near the zoo? | Abe Natsumi | Listen and Repeat | 1:24 |
| 44 | 2001-06-13 | May I have a map for the subway route? | Yasuda Kei | Listen and Repeat | 1:20 |
| 45 | 2001-06-14 | Would you please take me to this address? | Yoshizawa Hitomi | Listen and Repeat | 1:31 |
| 46 | 2001-06-15 | I'll eat here. | Tsuji Nozomi | Listen and Repeat | 1:20 |
| 47 | 2001-06-18 | Is there anyone who can speak Japanese? (TEST) | Abe Natsumi | Test | 1:21 |
| 48 | 2001-06-19 | I'll get off here. (TEST) | Ishikawa Rika | Test | 1:22 |
| 49 | 2001-06-20 | Do you have any cheaper ones? (TEST) | Yasuda Kei | Test | 1:19 |
| 50 | 2001-06-21 | I can't find my way around. (TEST) | Yoshizawa Hitomi | Test | 1:13 |
| 51 | 2001-06-25 | What kind of dessert do you have? (TEST) | Kago Ai | Test | 1:53 |
| 52 | 2001-06-26 | Can you please draw a map for me? (TEST) | Tsuji Nozomi | Test | 1:39 |
| 53 | 2001-06-27 | Where is the nearest subway station? (TEST) | Yaguchi Mari | Test | 1:45 |
| 54 | 2001-06-28 | I think this is too expensive. (TEST) | Iida Kaori | Test | 1:59 |
| 55 | 2001-07-02 | What is your name? | Tsuji Nozomi | Question | 1:16 |
| 56 | 2001-07-03 | What is your occupation? | Abe Natsumi | Question | 2:52 |
| 57 | 2001-07-04 | Where is the restroom? | Ishikawa Rika | Question | 2:13 |
| 58 | 2001-07-05 | What is your favorite food? | Yoshizawa Hitomi | Question | 1:56 |
| 59 | 2001-07-09 | Where are you going? | Iida Kaori | Question | 1:49 |
| 60 | 2001-07-10 | How tall are you? | Yaguchi Mari | Question | 1:47 |
| 61 | 2001-07-11 | Where can I get a cup of coffee? | Ishikawa Rika | Question | 1:38 |
| 62 | 2001-07-12 | What are you doing now? | Tsuji Nozomi | Question | 1:59 |
| 63 | 2001-07-17 | Which part of Japan are you from? | Abe Natsumi | Question | 1:17 |
| 64 | 2001-07-18 | What time is it now? | Goto Maki | Question | 1:43 |
| 65 | 2001-07-19 | What are you doing tonight? | Yasuda Kei | Question | 1:36 |
| 66 | 2001-07-20 | How old are you? | Kago Ai | Question | 1:16 |
| 67 | 2001-07-23 | How many members are in Morning Musume? | Tsuji Nozomi | Question | 2:04 |
| 68 | 2001-07-24 | What did you eat for lunch? | Yasuda Kei | Question | 1:59 |
| 69 | 2001-07-25 | Where are you going this summer? | Iida Kaori | Question | 1:33 |
| 70 | 2001-07-26 | What part of Japan do you like the most? | Yaguchi Mari | Question | 1:46 |
| 71 | 2001-07-30 | What kind of food do you hate? | Goto Maki | Question | 2:06 |
| 72 | 2001-07-31 | What is your birthday? | Tsuji Nozomi | Question | 2:23 |
| 73 | 2001-08-01 | What kind of dessert do you like? | Yaguchi Mari | Question | 1:37 |
| 74 | 2001-08-02 | What are your hobbies? | Abe Natsumi | Question | 2:18 |
| 75 | 2001-08-03 | What is your favourite Japanese word? | Yoshizawa Hitomi | Question | 3:24 |
| 76 | 2001-08-06 | What day is it today? | Goto Maki | Question | 1:44 |
| 77 | 2001-08-07 | What are your recent hobbies? | Yoshizawa Hitomi | Question | 1:12 |
| 78 | 2001-08-08 | Who eats the most in Morning Musume? | Iida Kaori | Question | 1:42 |
| 79 | 2001-08-09 | What is your image of summer? | Kago Ai | Question | 2:56 |
| 80 | 2001-08-14 | Is there anything you got angry about recently? | Yasuda Kei | Question | 1:58 |
| 81 | 2001-08-15 | What do you first do when you wake up? | Abe Natsumi | Question | 2:05 |
| 82 | 2001-08-16 | What are you good at cooking? | Ishikawa Rika | Question | 1:46 |
| 83 | 2001-08-17 | What time did you wake up this morning? | Goto Maki | Question | 1:12 |
| 84 | 2001-08-20 | Is there a telephone booth nearby? | Tsuji Nozomi | Question | 1:48 |
| 85 | 2001-08-21 | What is your shoe size? | Yaguchi Mari | Question | 2:10 |
| 86 | 2001-08-22 | Nono's Surprise Dancing! | Tsuji Nozomi | Surprise Dancing Lesson | 2:54 |
| 87 | 2001-08-23 | I want to play volleyball and hit a spike. | Yoshizawa Hitomi | English Sketchbook | 2:52 |
| 88 | 2001-08-24 | I want to go shopping tomorrow. | Ishikawa Rika | English Sketchbook | 2:51 |
| 89 | 2001-08-28 | I want to go to Korea and eat yakiniku. | Yasuda Kei | English Sketchbook | 2:21 |
| 90 | 2001-08-29 | I want to go to the beach wearing a see-through bikini. | Iida Kaori | English Sketchbook | 2:40 |
| 91 | 2001-08-30 | I want to go and get a haircut tomorrow. | Yaguchi Mari | English Sketchbook | 2:49 |
| 92 | 2001-08-31 | I want to go to yuenchi. | Kago Ai | English Sketchbook | 2:17 |
| 93 | 2001-09-03 | I want to go to Disneyland. | Tsuji Nozomi | English Sketchbook | 2:40 |
| 94 | 2001-09-04 | I want to go to Italy and eat Italian food. | Yasuda Kei | English Sketchbook | 2:58 |
| 95 | 2001-09-05 | I went to go watch a movie... | Yaguchi Mari | English Sketchbook | 3:43 |
| 96 | 2001-09-06 | Don't be too stuck-up! | Goto Maki | English Sketchbook | 2:37 |
| 97 | 2001-09-12 | I want to run around naked on a deserted island. | Yaguchi Mari | English Sketchbook | 2:46 |
| 98 | 2001-09-13 | I want to go camping at a mountain... | Yoshizawa Hitomi | English Sketchbook | 2:08 |
| 99 | 2001-09-14 | I want to go to Hawaii, and go scuba diving. | Ishikawa Rika | English Sketchbook | 1:31 |
| 100 | 2001-09-17 | If I was born as a guy, then I would want to become a macho man. | Iida Kaori | English Sketchbook | 1:46 |
| 101 | 2001-09-18 | I want to be born as a handsome guy... | Goto Maki | English Sketchbook | 1:40 |
| 102 | 2001-09-19 | I want to become a boxer, because I love Guts Ishimatsu-san | Yoshizawa Hitomi | English Sketchbook | 1:34 |
| 103 | 2001-09-20 | I want to nanpa a lot of girls. | Yasuda Kei | English Sketchbook | 1:58 |
| 104 | 2002-04-01 | Leave it alone. (with Kago Ai, You're gonna get fat) | Yoshizawa Hitomi | Jenga | 2:07 |
| 105 | 2002-04-02 | Give me a hug. | Yoshizawa Hitomi | Jenga | 1:42 |
| 106 | 2002-04-03 | Kiss me. | Abe Natsumi | Jenga | 2:31 |
| 107 | 2002-04-04 | I understand. | Abe Natsumi | Jenga | 1:49 |
| 108 | 2002-04-05 | Help yourself. | Niigaki Risa | Jenga | 1:39 |
| 109 | 2002-04-08 | Go ahead. | Yasuda Kei | Jenga | 1:51 |
| 110 | 2002-04-09 | It's my treat. | Yasuda Kei | Jenga | 1:35 |
| 111 | 2002-04-10 | I miss you. | Goto Maki | Jenga | 2:23 |
| 112 | 2002-04-11 | I'm by your side | Goto Maki | Jenga | 1:52 |
| 113 | 2002-04-12 | Really? | Tsuji Nozomi | Jenga | 2:45 |
| 114 | 2002-04-15 | I mean it. | Tsuji Nozomi | Jenga | 1:42 |
| 115 | 2002-04-16 | Ouch! | Takahashi Ai | Jenga | 2:00 |
| 116 | 2002-04-17 | No way? | Takahashi Ai | Jenga | 1:33 |
| 117 | 2002-04-18 | Take it easy. | Kago Ai | Jenga | 2:07 |
| 118 | 2002-04-19 | I'm buzzing. | Kago Ai | Jenga | 2:07 |
| 119 | 2002-04-22 | I'm so hungry. | Ishikawa Rika | Special Menu | 2:35 |
| 120 | 2002-04-23 | What are your plans for next Sunday? | Yasuda Kei | Special Menu | 1:55 |
| 121 | 2002-04-24 | I was spaced out. | Iida Kaori | Special Menu | 2:25 |
| 122 | 2002-04-25 | Are you for real? | Iida Kaori | Special Menu | 1:58 |
| 123 | 2002-04-26 | It's very delicious. | Konno Asami | Special Menu | 2:10 |
| 124 | 2002-04-29 | Couldn't be better. | Yoshizawa Hitomi | Special Menu | 2:22 |
| 125 | 2002-04-30 | Stop picking on me. | Yaguchi Mari | Special Menu | 2:23 |
| 126 | 2002-05-01 | I screwed up. | Ogawa Makoto | Special Menu | 2:00 |
| 127 | 2002-05-02 | You'll make it. | Abe Natsumi | Special Menu | 2:31 |
| 128 | 2002-05-03 | I'm happy you're here. | Yasuda Kei | Special Menu | 2:21 |
| 129 | 2002-05-06 | I have stage fright. | Goto Maki | Special Menu | 2:27 |
| 130 | 2002-05-07 | I ate it. | Yaguchi Mari | Special Menu | 1:54 |
| 131 | 2002-05-08 | Long time no see. | Ishikawa Rika | Special Menu | 2:15 |
| 132 | 2002-05-09 | I can't wait to see you. | Iida Kaori | Special Menu | 3:28 |
| 133 | 2002-05-10 | When pigs fly! | Yoshizawa Hitomi | Special Menu | 1:43 |
| 134 | 2002-05-13 | Can I have a sip? | Yasuda Kei | Special Menu | 1:28 |
| 135 | 2002-05-14 | What do you recommend? | Konno Asami | Special Menu | 1:42 |
| 136 | 2002-05-15 | Hold your tongue. | Yaguchi Mari | Special Menu | 2:20 |
| 137 | 2002-05-16 | I hope your dreams will come true. | Iida Kaori | Special Menu | 1:44 |
| 138 | 2002-05-17 | Break a leg. | Yoshizawa Hitomi | Special Menu | 1:48 |
| 139 | 2002-05-20 | I have no clue. | Ogawa Makoto | Special Menu | 1:22 |
| 140 | 2002-05-21 | How do I get to this place? | Goto Maki | Special Menu | 1:57 |
| 141 | 2002-05-22 | You look good in jeans. | Yoshizawa Hitomi | Special Menu | 1:38 |
| 142 | 2002-05-23 | Please have a good time. | Yaguchi Mari | Special Menu | 2:26 |
| 143 | 2002-05-24 | Break the ice. | Abe Natsumi | Special Menu | 2:36 |
| 144 | 2002-05-27 | Icing on the cake. | Yasuda Kei | Special Menu | 2:27 |
| 145 | 2002-05-28 | Thank you for waiting! | Yaguchi Mari | Special Menu | 1:40 |
| 146 | 2002-05-29 | Do you love me? | Iida Kaori | Special Menu | 1:50 |
| 147 | 2002-05-30 | Can you give me discount? | Yaguchi Mari | Special Menu | 2:22 |
| 148 | 2002-05-31 | I'll have this one please. | Abe Natsumi | Special Menu | 2:27 |
| 149 | 2002-06-03 | Go ahead. / What are your plans for next Sunday? (TEST) | Yasuda Kei | Test | 1:47 |
| 150 | 2002-06-04 | I'm so happy you're here. / Can I have a sip? (TEST) | Yasuda Kei | Test | 1:38 |
| 151 | 2002-06-05 | Leave it alone. / Give me a hug. (TEST) | Yoshizawa Hitomi | Test | 1:47 |
| 152 | 2002-06-06 | Couldn't be better. / When pigs fly. (TEST) | Yoshizawa Hitomi | Test | 2:10 |
| 153 | 2002-06-07 | Kiss me. / I understand. (TEST) | Abe Natsumi | Test | 1:42 |
| 154 | 2002-06-10 | You'll make it. / Break the ice. (TEST) | Abe Natsumi | Test | 2:23 |
| 155 | 2002-06-11 | Stop picking on me. / I ate it. (TEST) | Yaguchi Mari | Test | 1:48 |
| 156 | 2002-06-12 | Please have a good time. / Hold your tongue. (TEST) | Yaguchi Mari | Test | 1:47 |
| 157 | 2002-06-13 | Are you for real? / I was spaced out. (TEST) | Iida Kaori | Test | 2:07 |
| 158 | 2002-06-14 | I can't wait to see you. / I hope your dreams will come true. (TEST) | Iida Kaori | Test | 1:49 |
| 159 | 2002-06-17 | I'll be with you. / I have stage fright. (TEST) | Goto Maki | Test | 2:13 |
| 160 | 2002-06-18 | How do I get to this place? / I miss you. (TEST) | Goto Maki | Test | 2:05 |
| 161 | 2002-06-19 | How is the taste? | Takahashi Ai | Special Menu | 2:18 |
| 162 | 2002-06-20 | To kill two birds with one stone. | Ishikawa Rika | Special Menu | 2:29 |
| 163 | 2002-06-21 | Where are you now? | Abe Natsumi | Special Menu | 2:09 |
| 164 | 2002-06-24 | I want to brush up my English skills. | Ishikawa Rika | Special Menu | 1:48 |
| 165 | 2002-06-25 | It was love at first sight. | Takahashi Ai | Special Menu | 2:09 |
| 166 | 2002-06-26 | To be with you makes me happy. | Yaguchi Mari | Special Menu | 2:44 |
| 167 | 2002-06-27 | Oh, how nice! | Yoshizawa Hitomi | Special Menu | 1:44 |
| 168 | 2002-06-28 | Let's break up. | Abe Natsumi | Special Menu | 2:01 |
| 169 | 2002-07-08 | When can I see you again? | Yaguchi Mari | Special Menu | 2:03 |
| 170 | 2002-07-09 | Can you take me to the beach? | Yoshizawa Hitomi | Special Menu | 1:58 |
| 171 | 2002-07-29 | Cut it out! | Goto Maki | Special Menu | 1:27 |
| 172 | 2002-07-30 | Cut it out! part II | Goto Maki | Special Menu | 1:23 |
| 173 | 2002-07-31 | We're so in love. | Konno Asami | Special Menu | 1:52 |
| 174 | 2002-08-01 | Look! Isn't this cute? | Yaguchi Mari | Special Menu | 2:01 |
| 175 | 2002-08-05 | Are you busy right now? | Niigaki Risa | Special Menu | 1:53 |
| 176 | 2002-08-06 | Can you stay by me? | Ishikawa Rika | Special Menu | 2:07 |
| 177 | 2002-08-07 | Yummy! | Iida Kaori | Special Menu | 2:01 |
| 178 | 2002-08-08 | That sucks! | Takahashi Ai | Special Menu | 2:25 |
| 179 | 2002-08-12 | He's so my type! | Abe Natsumi | Special Menu | 1:33 |
| 180 | 2002-08-13 | He's so my type! part II | Abe Natsumi | Special Menu | 2:07 |
| 181 | 2002-08-14 | Are you open tomorrow? | Ogawa Makoto | Special Menu | 1:47 |
| 182 | 2002-08-15 | It's really muggy | Ishikawa Rika | Special Menu | 1:45 |
| 183 | 2002-08-16 | It's really muggy part II | Ishikawa Rika | Special Menu | 1:35 |
| 184 | 2002-08-19 | I'm down. | Takahashi Ai | Special Menu | 1:26 |
| 185 | 2002-08-20 | Stop fooling around. | Yaguchi Mari | Special Menu | 2:06 |
| 186 | 2002-08-21 | It's a sign of love. | Iida Kaori | Special Menu | 1:54 |
| 187 | 2002-08-22 | Cheer up! | Ishikawa Rika | Special Menu | 2:29 |
| 188 | 2002-08-23 | I have a sweet tooth. | Konno Asami | Special Menu | 2:14 |
| 189 | 2002-08-27 | All done. | Ogawa Makoto | Special Menu | 1:32 |
| 190 | 2002-08-28 | I'll e-mail you. | Yoshizawa Hitomi | Special Menu | 1:49 |
| 191 | 2002-08-29 | So, so. | Iida Kaori | Special Menu | 2:37 |
| 192 | 2002-08-30 | Come, join us! | Goto Maki | Special Menu | 1:57 |
| 193 | 2002-09-02 | What's your blood type? | Ishikawa Rika | Special Menu | 1:31 |
| 194 | 2002-09-03 | I'm leaving. | Konno Asami | Special Menu | 2:11 |
| 195 | 2002-09-04 | Get to work. | Iida Kaori | Special Menu | 2:07 |
| 196 | 2002-09-05 | I'm in trouble. | Ogawa Makoto | Special Menu | 1:57 |
| 197 | 2002-09-09 | No, not really. | Tsuji Nozomi | Special Menu | 1:26 |
| 198 | 2002-09-10 | You are so funny! | Yoshizawa Hitomi | Special Menu | 1:33 |
| 199 | 2002-09-11 | Nono's Surprise Dancing! part II | Tsuji Nozomi | Surprise Dancing Lesson | 3:28 |
| 200 | 2002-09-12 | Are you serious? | Konno Asami | Special Menu | 1:44 |
| 201 | 2002-09-13 | It's Ok right! | Yoshizawa Hitomi | Special Menu | 2:06 |
| 202 | 2002-09-16 | Can I ask you a favor? | Yasuda Kei | Special Menu | 2:28 |
| 203 | 2002-09-17 | Let me think about it. | Konno Asami | Special Menu | 1:40 |
| 204 | 2002-09-18 | It's so scary! | Yoshizawa Hitomi | Special Menu | 2:01 |
| 205 | 2002-09-19 | Trust me. | Tsuji Nozomi | Special Menu | 2:01 |
| 206 | 2002-09-20 | Never mind. | Yaguchi Mari | Special Menu | 2:04 |