"
I want to pull out the group to the next level, we need to step up our skills and my real dream is to perform at the Tokyo Dome! Definitely, one day we will be able to perform there ![1]
"

–Asakura Kiki, March 2017
Asakura Kiki (浅倉樹々) is a Japanese pop singer under Hello! Project as a member of Tsubaki Factory. She first joined Hello Pro Kenshuusei in November 2014 and was introduced as a member at the November / December recital concert.[2]
Biography
Edit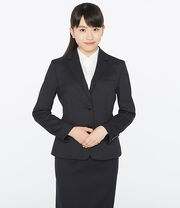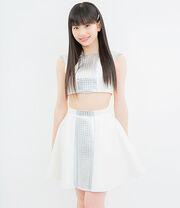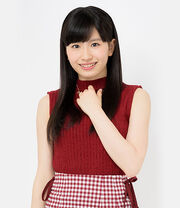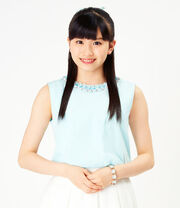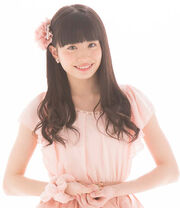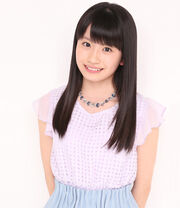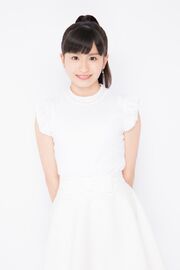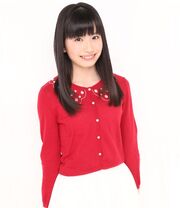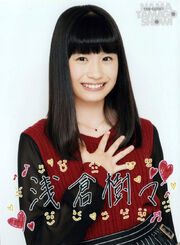 Early Life
Edit
Asakura was born on September 3, 2000 in Chiba, Japan.
In mid-2014, Asakura participated in the Morning Musume '14 <Golden> Audition!. Asakura made it to the final round, but was not chosen to join Morning Musume '14.[3] After failing the audition, she joined Hello Pro Kenshuusei on October 25. She was officially announced as a member of the trainee program on November 18[2] and was formally introduced during the Hello Pro Kenshuusei Happyoukai 2014 ~11gatsu・12gatsu no Nama Tamago Show!~ recital on November 29 alongside 8 other girls.[2]
On April 29, it was announced that Asakura would be debut in a new unit named Tsubaki Factory alongside Yamagishi Riko, Kishimoto Yumeno, Niinuma Kisora, Ogata Risa and Tanimoto Ami.
On June 16, it was announced that Asakura was diagnosed with a lumbar disc herniation and would not be participating in any activities up until June 30 in order to rest.[4] After an examination with the doctor on June 30, it was determined that she was not in the condition to return to activities. Asakura was reported to still be in pain and had only started acupuncture and physical therapy to help relieve it, thus she would continue resting until mid-July.[5]
An update was posted on July 12, stating that Asakura would be able to gradually restart activities.[6] She participated in the talk segments of the "Shuukatsu Sensation / Waratte / Hana Moyou" release events from July 25 to July 28, but missed the Hello! Project 2017 SUMMER concerts in Osaka, Fukuoka, and Hokkaido.
On August 3, it was announced that she would be absent from Tsubaki Factory's appearances at TOKYO IDOL FESTIVAL 2017 and the TV Asahi Roppongi Hills Natsu Matsuri SUMMER STATION 2017. She was also absent for the rest of the Hello! Project 2017 SUMMER tour, with the exception of August 5 at Nakano Sun Plaza, which she only appeared in the MC segments.[7] Another update was released on August 29, stating that her condition was slowing getting better, but she was still not able to fully resume activities. She only participated in the MC of the Hello! Project Kenshuusei Happyoukai 2017 9gatsu ~Go NEXT!~ shows on September 3, but was absent for the remaining shows as well as Tsubaki Factory's appearances at Tokyo Radio Dai Kanshasai 2017 ~ Shinkasuru Radio and LIVE PRO FESTIVAL 2017.[8]
On September 4, Asakura celebrated her 17th birthday at a fanclub event titled Tsubaki Factory Asakura Kiki Birthday Event 2017, which featured two shows at MT.RAINIER HALL. Due to her physical condition, she sang while sitting.
By October 16, Asakura had gradually resumed activities—mostly MCs at Tsubaki Factory single release events—while ongoing training for her lumbar disc herniation. Although she was improving, she was not ready for full performances at this time and was absent from the Tsubaki Factory's appearances at Dai 3 Kai Naka G Fest and "GIRLS❤GIRLS❤GIRLS"LIVE MONSTERS!! that month.[9]
On November 22, Asakura returned to performing at a promotional mini live for Tsubaki Factory's upcoming third single. She only participated in the group's first performance of "Teion Yakedo",[10] but she was also able to perform "Waratte" at another mini live on November 25.[11] She was later able to perform with the group at the Hello! Project Kenshuusei Happyoukai 2017 12gatsu ~Conti→New!~,[12] except for the December 3 shows due to poor physical health.[13]
As of March 2018, Asakura has been able to perform in some parts of lives while she continues training for her lumbar disc herniation. Unfortunately due to her limited participation, she will not appear with Tsubaki Factory at the Dempagumi.inc Road to Ai Odorisai 2018 ~Zensekai IDOL Ouen PROJECT~ on March 3 and MARQUEE Matsuri Vol.10 on March 8.[14]
Personal Life
Edit
She has a younger brother.
She owns a pet dog named Charlie and a parakeet named Sen-chan.[15] In July 2016, Asakura's family got another dog named Kohaku.[16]
Asakura was in her second year of middle school when she joined Hello Pro Kenshuusei in October 2014. When she joined Tsubaki Factory in April 2015, she was in her third year of middle school. As of April 2018, she is currently attending her last year of high school.
The following list are notable friendships Asakura Kiki has acquired:
As of May 2015, Asakura has yet to be given an official nickname. The following is a list of nicknames that have been used to refer to Asakura:
Kiki-tan (ききたん): Given and used by Niinuma Kisora.
Name: Asakura Kiki (浅倉樹々)
Birthdate: September 3, 2000
Birthplace: Chiba Prefecture, Japan
Blood Type: AB
Height: 153cm
Western Zodiac: Virgo
Hello! Project Status:
Tsubaki Factory Member Color: Light Pink (2015-)
Hello! Project Groups:
One-Shot Units:
Specialties: Plaing the euphonium, piano, dance, pantomime
Hobbies: Listening to music, collecting cute cosmetics, playing with her dog
Favorite Music Genre: J-pop, Classical
Favorite Food: Tarako
Favorite Colors: Light pink and Light blue
Favorite Sport: Badminton
Charm Point: Her love for pets
Motto: Kiyoku tadashiku utsukushiku (清く 正しく 美しく; Purely, Truthfully, Beautifully)
Favorite Hello! Project Songs: "Naichau Kamo", "MY BOY", "Rock no Seichi", "I'm Lucky girl", "One•Two•Three", "Nakimushi Shounen"
Looks Up To: Takahashi Ai, Sayashi Riho
Publications
Edit
Magazines
Edit
Honorary Titles
Edit
References
Edit
External Links
Edit