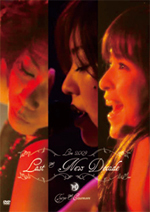 Are Kara 10nen Taiyou to Ciscomoon LIVE 2009 Last&NewDecade is a reunion concert tour by T&C Bomber. The DVD was filmed on October 4, 2009 and released on January 15, 2010.
RuRu did not participate in the concert tour due to conflicting work schedules, but she is featured in one of the MCs.
Tracklist
Edit
Opening
MC 1
MC 2
Medley
VTR Movie
Medley
MC 3
MC 4
ENCORE
YES! Shiawase (でっかい宇宙に愛がある)
ENCORE 2
Mega Best Sale Commemoration Release at HMV Shibuya
Melon Greeting Guest Appearance
Are Kara 10nen! -Taiyou to Ciscomoon, Saisho de Siago no Talk Live-
Last & New Decade Backstage Movie
Honban Chokuzen Interview
Memorial Slide Show
Featured Members
Edit
Taiyou to Ciscomoon / T&C Bomber
Former Members

Shinoda Miho, Inaba Atsuko, RuRu, Kominato Miwa
Singles

01, 02, 03, 04, 05, 06, 07, 08
Albums

Original: Taiyo & Ciscomoon 1, 2nd STAGE
Best: Taiyo to Ciscomoon / T&C Bomber Mega Best
Ad blocker interference detected!
Wikia is a free-to-use site that makes money from advertising. We have a modified experience for viewers using ad blockers

Wikia is not accessible if you've made further modifications. Remove the custom ad blocker rule(s) and the page will load as expected.