Arai Manami
Comments

2
1,973pages on
this wiki
Arai Manami
新井愛瞳



Also known as

Maana (まぁな)

Born

November 19, 1997 (1997-11-19) (age 16)

Birthplace

Gunma prefecture

Years active

2004-Present

Occupation

Singer

Associated acts
Arai Manami (新井愛瞳) is a Japanese singer. She is a member of Up Up Girls. She is a former 1st generation member of Hello! Pro Egg, having joined in 2004. She also did a small project with Ogawa Saki called Cheekids.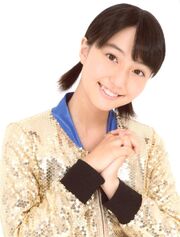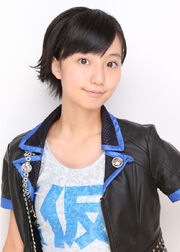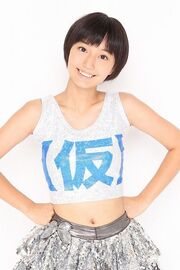 In 2004, Arai auditioned for the Hello! Pro Egg auditions and passed.
In 2007, Arai officially started activities as Egg along with new members Kikkawa Yuu and Linlin.
In March 2011, it was announced that Arai along with several eggs finished the training from Hello! Pro Kenshuusei
In April, it was announced that Arai would form part of the group Up Up Girls (Kari).
On May 5, Arai and Sekine Azusa starred in the stage play Shiritsu Guriguri Gakuen (私立グリグリ学園).
Arai had a small role in a 2 part horror movie titled Ada ~ADA~. The movie was directed by Koji Shiraishi and was released on July 13.
Name: Arai Manami (新井愛瞳)
Nickname: Maana (まぁな)
Birthdate:  November 19, 1997
Birthplace: Gunma prefecture
Western Zodiac: Scorpio
Eastern Zodiac: Ox
Bloodtype: B
Height: 153cm
Shoe Size: 23.5cm
Favorite Subjects: Math, English, Home Economics, Music.
Least Favorite Subject: Japanese
Favorite Food: Peaches and bread
Least Favorite Food: Mushroom
Looks Up To: Kamei Eri
Up Up Girls (Kari) Color: Blue
Hello! Project Groups:
Up-Front PROMOTION Groups:
Other Groups
Discography Featured In
Edit
Up Up Girls (Kari)
Ganbarou Nippon Ai wa Katsu Singers
T-Palette mini All Stars
[2013.07.13] Ada ~ADA~ (讐 ~ADA~)
[2011.04.02-] Up-Front Girls
[2012.05.05] Shiritsu Guriguri Gakuen (私立グリグリ学園)
Eats bread for breakfast.
Has a habit of cracking her knuckles.
Her favorite spot is the kotatsu at her house.
Was the only Hello! Pro Egg to wear glasses, all the time.
While a member of Hello Pro Egg, she often carried around a photo of Morning Musume.
Her official Up Up Girls colour is blue.
Has the same birthday as current Hello! Pro Kenshuusei member Kosuga Fuyuka.
Is currently the youngest member of Up Up Girls.
Hello! Pro Kenshuusei member Kosuga Fuyuka and her born on the same month, year and day
Honorary Titles
Edit
External Links
Edit
Up Up Girls (Kari)
Members
Sengoku Minami (L), Furukawa Konatsu, Mori Saki, Sato Ayano, Saho Akari, Sekine Azusa, Arai Manami
Singles
01, 02, 03, 04, 05, 06, 07, 08, 09, 10, 11, 12, 13, 14, 15, 16
Albums
First Album (Kari)
Related Units
Hello! Pro Kenshuusei
Hello! Pro Kenshuusei
Members
4th Gen: Kaneko Rie (L)


9th Gen: Tanabe Nanami
11th Gen: Yoshihashi Kurumi, Hamaura Ayano, Taguchi Natsumi
12th Gen: Ogawa Rena
14th Gen: Kosuga Fuyuka
15th Gen: Murota Mizuki
16th Gen: Yamagishi Riko, Nomura Minami
17th Gen: Ichioka Reina, Kaga Kaede, Kishimoto Yumeno, Makino Maria, Wada Sakurako
18th Gen: Sasaki Rikako
19th Gen: Tanaka Karen, Inaba Manaka, Mikame Kana, Fujii Rio, Inoue Hikaru
20th Gen: Yamaki Risa, Yokogawa Yumei, Niinuma Kisora, Oura Hirona, Danbara Ruru, Haga Akane, Funaki Musubu

Former Members
1st Gen: Korenaga Miki, Kawashima Miyuki, Okada Yui, Noto Arisa, Morozuka Kanami, Aoki Erina, Tanaka Anri, Ohse Kaede, Sengoku Minami, Sawada Yuri, Muto Mika, Hashida Mirei, Furukawa Konatsu, Hashimoto Aina, Ooyanagi Maho, Akiyama Yurika, Okada Robin Shouko, Arihara Kanna, Goto Yuki, Sainen Mia, Mori Saki, Yutoku Ayumi, Kitahara Sayaka, Wada Ayaka, Maeda Yuuka, Fukuda Kanon, Saho Akari, Okai Asuna, Sekine Azusa, Ogawa Saki, Maeda Irori, Arai Manami


2nd Gen: Mano Erina, Ogura Manami, Komine Momoka
3rd Gen: Linlin, Kikkawa Yuu
4th Gen: Fukumura Mizuki, Takeuchi Akari
5th Gen: Miyamoto Karin
6th Gen: Sezaki Azusa, Sato Ayano
7th Gen: Hirano Tomomi, Katsuta Rina
8th Gen: Takagi Sayuki
10th Gen:Kizawa Runa, Nagasawa Wakana, Kudo Haruka
12th Gen: Otsuka Aina, Mogi Minami
13th Gen: Yamaga Kanae, Oda Sakura
14th Gen: Uemura Akari
15th Gen: Okamura Rise
17th Gen:Kanazawa Tomoko
19th Gen: Mashiro Kana

Singles
01, 02
Digital Singles
01
Original Songs
Oheso no Kuni Kara Konnichiwa
Associated Acts
THE Possible, Up Up Girls (Kari), ℃-ute, Juice=Juice, Morning Musume, S/mileage, v-u-den, Shugo Chara Egg!, Tomoiki Ki wo Uetai, Aa!, High-King, Jurin, MilkyWay, Ongaku Gatas, Reborn Eleven, Shin Minimoni, Kashou Egg