Ad blocker interference detected!
Wikia is a free-to-use site that makes money from advertising. We have a modified experience for viewers using ad blockers

Wikia is not accessible if you've made further modifications. Remove the custom ad blocker rule(s) and the page will load as expected.
Ai Kotoba (VOICE)

CD only
Album by

Goto Maki

Native title
愛言葉(VOICE)
Released
November 2, 2011
Genre
J-pop
Format
CD, CD+DVD, digital download
Recorded
2011
Length
56:27 (CD only)
Label
avex trax

Goto Maki

Albums Chronology
Previous
LOVE 4th mini album (2011)
Other Covers
Ai Kotoba (VOICE) (愛言葉(VOICE); Love Words (VOICE)) is the fifth album released by Goto Maki, and first under avex trax. The 2CD+2DVD limited edition comes with a DVD featuring music videos including "Queen Bee with BIGGA RAIJI", fifteen postcards featuring photos of Goto Maki shot in Shinjuku under the editorship of Nicola Formichetti, a bonus CD "Collabo-Works Disc" with eleven tracks selected from her collaboration works and a second bonus DVD "Making Movie Disc" with making-of footage of her works such as photoshoots and music videos.
Tracklist
Edit
What is LOVE
Get Your Way
YOU
Tsukikage (月影; Moon Shadow)
Ai Kotoba (愛言葉; Words of Love)
Paradise
SCANDALOUS
Houseki (宝石; Jewel)
"Nee..." (「ねぇ、、、」; "Hey...")
Hanauta -hanauta- (華詩-hanauta-; Flower Poem -song of flowers-)
Believe
Ashiato (足跡; Footprints)
[Collabo-Works Disc]
SWEET BLACK feat. MAKI GOTO - Queen Bee with BIGGA RAIJI
SWEET BLACK feat. MAKI GOTO - Lady-Rise
SWEET BLACK feat. MAKI GOTO - Candy
SWEET BLACK feat. MAKI GOTO - TEAR DROPS with KG
SWEET BLACK feat. MAKI GOTO - Mine with KEN THE 390
SWEET BLACK feat. MAKI GOTO - Fly away
SWEET BLACK feat. MAKI GOTO - Plastic Lover
SWEET BLACK feat. MAKI GOTO - with...
ravex - Golden LUV
DJ MAYUMI - CRAZY IN LOVE feat. MAKI GOTO with FALCO & SHINO
SWEET BLACK feat. MAKI GOTO - Fly away -house nation remix-
SWEET BLACK feat. MAKI GOTO - Plastic Lover -club mix-
Disc 1
Fly away (MUSIC VIDEO)
Lady-Rise (MUSIC VIDEO)
with... (MUSIC VIDEO)
TEAR DROPS with KG (MUSIC VIDEO)
Queen Bee with BIGGA RAIJI (MUSIC VIDEO)
EYES (MUSIC VIDEO)
Houseki (宝石; Jewel) (MUSIC VIDEO)
Ashiato (足跡; Footprints) (MUSIC VIDEO)
"Nee..." (「ねぇ、、、」; Hey...) (MUSIC VIDEO)
YOU (MUSIC VIDEO)
Disc 2

Making Movie Disc
MAKI GOTO @ KABUKICHO directed by NICOLA FORMICHETTI MAKING VIDEO
Aya no Kouji Shou <Ai Ai Kasa> Goto Maki BACKSTAGE VIDEO
YOU MAKING VIDEO
Album Information
Edit
What is LOVE

Lyrics: Morizuki Kyasu
Composition: Tatta Works
Arrangement: Ryosuke "Dr. R" Sakai

Get Your Way

Lyrics: Yu Shimoji
Composition: M.I., Army Slick
Arrangement: Army Slick

YOU

Lyrics: Goto Maki, leonn
Composition: Hirofumi Hibino
Arrangement: ats-

Tskukikage

Lyrics: Goto Maki, Morizuki Kyasu
Composition: Oonishi Katsumi
Arrangement: Watanabe Tooru

Ai Kotoba

Lyrics: Morizuki Kyasu
Composition: BOUNCEBACK
Arrangement: ats-

Paradise

Lyrics: Morizuki Kyasu, leonn
Composition and Arrangement: Ryosuke "Dr.R" Sakai

SCANDALOUS

Lyrics: Emyli, Yu Shimoji
Composition: Emyli, Kohei Yokono
Arrangement: TRACKBUMP

Believe

Lyrics: Goto Maki
Composition: Natsumi
Arrangement: ats-

Golden LUV feat. MAKI GOTO

Lyrics: Boo
Composition: ravex

CRAZY IN LOVE

Lyrics and Composition: ICEDOWN/STY/FALCO/SHINO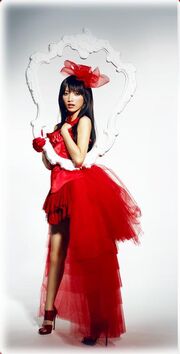 | Mon | Tue | Wed | Thu | Fri | Sat | Sun | Week Rank | Sales |
| --- | --- | --- | --- | --- | --- | --- | --- | --- |
| - | 6 | 7 | 4 | 20 | 30 | 6 | 8 | 7,213 |
| 23 | - | - | - | - | - | - | 83 | 1,122 |
| - | - | - | - | - | - | - | 213 | 433 |
Total Reported Sales: 8,768
External Links
Edit
Wikipedia: Japanese
Lyrics: What is LOVE, Get Your Way, YOU, Tsukikage, Ai Kotoba, Paradise, SCANDALOUS, Nee,,,, Believe