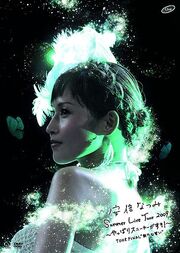 Abe Natsumi Summer Live Tour 2009 ~Yappari Sneaker ga Suki!~ Tour FINAL "Arata na Chikai"
(安倍なつみ Summer Live Tour 2009 ~やっぱりスニーカーがすき!~ Tour FINAL "新たな誓い") is
Abe Natsumi
's 2009 summer live tour. The DVD was filmed on August 8, 2009 at Kawaguchiko Stellar Theater. The DVD was released on November 11, 2009. It sold 2,162 copies.
Soyokaze (微風)
Amasugita Kajitsu (甘すぎた果実)
MC
Chotto Zutsu ne. (ちょっとずつね。)
Sweet Holic (スイートホリック)
MC
Mori e Kaerou (森へ帰ろう)
MC
Yannacchau (やんなっちゃう)
Shousetsu no Naka no Futari (小説の中の二人)
Iki wo Kasanemashou (息を重ねましょう)
SE
Kuchibiru de Tomete (くちびるで止めて)
MC
Datte Ikitekanakucha (だって 生きてかなくちゃ)
The Stress (ザ・ストレス)
OL no Jijou (OLの事情)
MC
Sayonara Sae Ienu Mama (さよならさえ言えぬまま)
Yuugure Sakusen Kaigi (夕暮れ作戦会議)
MC
Otona e no Elevator (大人へのエレベーター)
Encore
Anata Iro (あなた色)
MC
Toumorokoshi to Sora to Kaze (トウモロコシと空と風)
Koi ni Jealousy Moushiagemasu (恋にジェラシー申し上げます)
Sora LIFE GOES ON (空 LIFE GOES ON)
Itoshiki Hito (愛しき人)
Tour Schedule
Edit
Date
Time
Prefecture
Venue
June 6, 2009
14:30
Saitama
Higashimatsuyama Citizen's Cultural Center
18:00
June 7, 2009
15:00
Kanagawa
Yokohama Kannai Hall
18:30
June 20, 2009
15:00
Osaka
Mido Kaikan
18:30
June 21, 2009
15:00
Okuyama
Okuyama CRAZYMAMA KINGDOM
18:00
July 4, 2009
15:00
Niigata
Niigata LOTS
18:00
July 11, 2009
15:00
Hiroshima
Hiroshima Club Quatro
18:00
July 12, 2009
15:30
Fukuoka
Ims Hall
18:30
July 18, 2009
17:00
Hokkaido
Zepp Sapporo
July 20, 2009
17:00
Miyagi
Zepp Sendai
July 25, 2009
15:00
Aichi
Diamond Hall
18:00
July 26, 2009
15:00
Shizuoka
Hamamatsu space-K
18:00
August 1, 2009
15:00
Tokyo
Tokyo Kousei Nenkin Kaikan
19:00
August 8, 2009
16:00
Yamanashi
Kawaguchiko Stellar Theater
Ad blocker interference detected!
Wikia is a free-to-use site that makes money from advertising. We have a modified experience for viewers using ad blockers

Wikia is not accessible if you've made further modifications. Remove the custom ad blocker rule(s) and the page will load as expected.