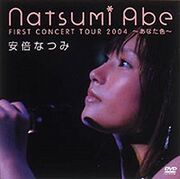 Abe Natsumi First Concert Tour 2004 ~Anata Iro~ (安倍なつみファーストコンサートツアー2004 ~あなた色~) is Abe Natsumi's first live concert tour. The concert tour lasted from June 12–30, 2004. The DVD was released on October 27, 2004. It sold 19,844 copies.
Tracklist
Edit
OPENING
MC1
Morning Musume Medley <with Nakazawa Yuko & Yasuda Kei>
MC2
BEST FRIEND - Yasuda Kei
MC3
MC4
Anata Iro
ENCORE
MC5
MC6
Ude Kunde Kaeritai with Nakazawa Yuko and Yasuda Kei
External Links
Edit
Ad blocker interference detected!
Wikia is a free-to-use site that makes money from advertising. We have a modified experience for viewers using ad blockers

Wikia is not accessible if you've made further modifications. Remove the custom ad blocker rule(s) and the page will load as expected.