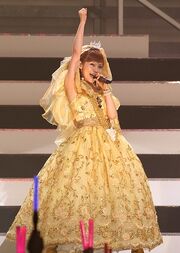 These are concerts staring
Abe Natsumi
.
Abe Natsumi Concerts
Edit
Abe Natsumi
Singles

01, 02, 03, 04, 05, 06, 07, 08, 09, 10, 11, 12
Other: Takaramono (as Sen)
Digital: 01
Collaborations: 01, 02, 03
Albums

Hitoribocchi, 2nd ~Shimiwataru Omoi~, Dreams
Mini: 25 ~Vingt-Cinq~
Best: Abe Natsumi ~Best Selection~ 15 Shoku no Nigaoe Tachi
Self-Cover: Smile...♥
Other

Concerts
Participated Units

Morning Musume, Kiiro 5, 10nin Matsuri, Odoru♡11, SALT5, Nochiura Natsumi, H.P. All Stars, DEF.DIVA, Dream Morning Musume
Ad blocker interference detected!
Wikia is a free-to-use site that makes money from advertising. We have a modified experience for viewers using ad blockers

Wikia is not accessible if you've made further modifications. Remove the custom ad blocker rule(s) and the page will load as expected.