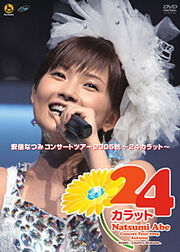 Abe Natsumi Concert Tour 2005 Aki ~24 Carat~ (安倍なつみコンサートツアー2005秋 ~24カラット~) is Abe Natsumi's second concert tour. It lasted from September to November 2005 with a total of 20 shows done in 10 days. The performance on the DVD is the November 11 show held at Tokyo Kouseinenkin Kaikan. The DVD was released on January 25, 2006. It sold 12,846 copies.
Tracklist
Edit
OPENING
Koi no Hana (恋の花)
MC1
MC2
Hajimete no Happy Birthday! - Abe Natsumi, Country Musume
Ii Koto Aru Kinen no Shunkan - Country Musume
Aisha Loan de - Abe Natsumi, Country Musume
Real Roudokugeki (Get Stream)
Mr.Moonlight ~Ai no Big Band~ - Abe Natsumi, Country Musume
Tatoeba ()
MC3
22sai no Watashi (22才の私)
MC4
Anata Iro (あなた色)
Ren'ai Sentai Shitsu Ranger (with Country Musume)
Koi no Telephone GOAL (with Country Musume)
ENCORE
MC5
Ude Kunde Kaeritai - Abe Natsumi, Country Musume
External Links
Edit
Ad blocker interference detected!
Wikia is a free-to-use site that makes money from advertising. We have a modified experience for viewers using ad blockers

Wikia is not accessible if you've made further modifications. Remove the custom ad blocker rule(s) and the page will load as expected.