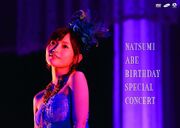 Abe Natsumi Birthday Special Concert
(安倍なつみ Birthday Special Concert) is
Abe Natsumi
's 2008 concert held at Nakano Sun Plaza on her 26th birthday, featuring a live band. The concert DVD was released on November 5, 2008 on the
hachama
label. For the last song right before the encore, fans were holding white and lightblue glowsticks, which greatly surprised Abe. The DVD was released on November 5, 2008. It sold 3,579 copies.
OPENING
Sweet Holic (スイートホリック)
Koishita Onna no Ko Dosue (恋した女の子どすえ)
MC
Hare Ame Nochi Suki (晴れ 雨 のち スキ)
Elevator Futaripocchi (エレベーター二人ぽっち)
MC
Takaramono (たからもの)
PIECE OF MY WISH
MC
FACE
Watashi no Aozora (私の青空)
MC
Manatsu no Kousen (真夏の光線)
Shousetsu no Naka no Futari (小説の中の二人)
MC
Iki wo Kasanemashou ()息を重ねましょう
I'm in Love
Amasugita Kajitsu (甘すぎた果実)
Datte Ikitekanakucha (だって 生きてかなくちゃ)
MC
Itoshiki Hito (愛しき人)
ENCORE
MC
Toumorokoshi to Sora to Kaze (トウモロコシと空と風)
MC
Ude Kunde Kaeritai (腕組んで帰りたい)
Bonus feature: Summer Holiday (夏休み)
Ad blocker interference detected!
Wikia is a free-to-use site that makes money from advertising. We have a modified experience for viewers using ad blockers

Wikia is not accessible if you've made further modifications. Remove the custom ad blocker rule(s) and the page will load as expected.