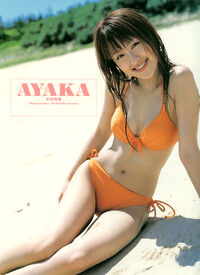 AYAKA is the first and only solo photobook released by Ayaka Kimura. The photobook was published by Wanibooks on August 21, 2003. The photography was done by Yoshimoto.
Information
Edit
Photobook Title
Edit
The title of the photobook is taken from Kimura's name and nickname, Ayaka.
Photobook Content
Edit
The photobook shows Kimura being happy with a little seriousness. The photobook was also said to really show off her sweet side. The pictures were taken to illuminate her body and face. There were many shots of her in her bikini at the beach, since the theme of the photobook was summer. There were also shots of her in her kimono doing summer festival traditions, and her in summer-based clothes in forests and other green areas.
External Links
Edit
Ad blocker interference detected!
Wikia is a free-to-use site that makes money from advertising. We have a modified experience for viewers using ad blockers

Wikia is not accessible if you've made further modifications. Remove the custom ad blocker rule(s) and the page will load as expected.