ANGERME Concert Tour 2017 Haru ~Kawaru Mono Kawaranai Mono~
Comments

0
Share
ANGERME Concert Tour 2017 Haru ~Kawaru Mono Kawaranai Mono~


ANGERME promoting the tour

ANGERME

Concert Tour
Native title
アンジュルム コンサートツアー 2017春 〜変わるもの 変わらないもの〜
Opening Date
April 9, 2017
Closing Date
May 15, 2017

ANGERME

Concert Tours Chronology
Previous
Rin Spring 2017 Live Tour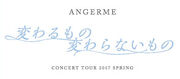 ANGERME Concert Tour 2017 Haru ~Kawaru Mono Kawaranai Mono~ (アンジュルム コンサートツアー 2017春 〜変わるもの 変わらないもの〜; ANGERME Concert Tour 2017 Spring ~Things That Change, Things That Will Not Change~) is ANGERME's 2017 spring concert hall tour. It will run from April 9 to May 15, 2017.
MC
VTR
MC
Desugita Kui wa Utarenai
Encore
MC
Featured Members
Edit
Absentees
Edit
3rd generation member Aikawa Maho is unable to participate in the tour due to her receiving treatment for panic disorder, which she was diagnosed with in January 2017.[1]
Concert Schedule
Edit
Date
Venue
Prefecture
Doors Open
Concert Starts
4/9
Misato Shimin Bunka Kaikan
Saitama
14:00
15:00
17:30
18:30
4/23
NHK Osaka Hall
Osaka
13:30
14:30
17:00
18:00
4/30
Natori-shi Bunka Kaikan
Miyagi
14:00
15:00
17:30
18:30
5/5
NGK Spark Plug Municipal Hall Village Hall
Aichi
14:00
15:00
17:30
18:30
5/7
Nakano Sun Plaza
Tokyo
14:00
15:00
17:30
18:30
5/15
Nippon Budokan
Tokyo
17:30
18:30
References
Edit
External Links
Edit
Ad blocker interference detected!
Wikia is a free-to-use site that makes money from advertising. We have a modified experience for viewers using ad blockers

Wikia is not accessible if you've made further modifications. Remove the custom ad blocker rule(s) and the page will load as expected.