ALL FOR ONE & ONE FOR ALL! is the only single of the limited time J-Pop super shuffle unit H.P. All Stars. It was released on December 1, 2004 in both limited and regular editions. The limited edition came with a 100-page booklet. The single reached #5 on the Oricon charts and charted for seven weeks, selling 61,440 copies.
Tracklist
Edit
ALL FOR ONE & ONE FOR ALL!
Sankaku Kankei (三角関係; Love Triangle) - Inaba Atsuko, Otani Masae, Shibata Ayumi, Matsuura Aya
Suki ni Naccha Ikenai Hito (好きになっちゃいけない人; The Person I Shouldn't Fall in Love With) - Tanaka Reina, Murakami Megumi, Suzuki Airi
ALL FOR ONE & ONE FOR ALL! (Instrumental)
Featured Members
Edit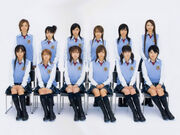 Promotional Video
Edit
In the promotional video, when the girls come to the front of the pack, and when they give their closeup introductions, they are both in approximate chronological order of when they joined Hello! Project (i.e.: First generation Morning Musume members are first, Miyoshi Erika and Okada Yui of v-u-den are last).
TV Performances
Edit
Abe Natsumi performed with the group until she was suspended for plagiarism at the end of November. Before performing without her for the first time on FNS Kayousai on the first of December, Nakazawa Yuko apologized for the group and they all bowed to the audience.
[2004-11-19] Pop Jam
[2004-11-25] Utaban
[2004-11-28] Hello! Morning
[2004-12-01] FNS Kayousai
[2004-12-03] Music Station
[2004-12-15] Best Artist 2004
Concert Performances
Edit
ALL FOR ONE & ONE FOR ALL!
Sankaku Kankei
Suki ni Naccha Ikenai Hito
Single Information
Edit
All lyrics and music by Tsunku
ALL FOR ONE & ONE FOR ALL!
Sankaku Kankei
Suki ni Naccha Ikenai Hito
The song was created to celebrate Hello! Project's seventh anniversary, while sending a message of peace.
The regular edition covers featured the members arranged in the shape of the letter "H" on the front cover, and the letter "P" on the back cover, representing the Hello! Project initials.
The dance shot ver. is featured in the DVD from Petit Best 6.
External Links
Edit