Ad blocker interference detected!
Wikia is a free-to-use site that makes money from advertising. We have a modified experience for viewers using ad blockers

Wikia is not accessible if you've made further modifications. Remove the custom ad blocker rule(s) and the page will load as expected.
6th Otakebi Album (6th 雄叫びアルバム; 6th War Cry Album) is the sixth studio album by J-pop group Berryz Koubou. It was released on March 31, 2010 on the PICCOLO TOWN label, and peaked at #12 on the weekly Oricon chart. The album was released in two editions: a normal edition and a limited edition. The first pressing of the normal edition contained a bonus photocard, while the limited edition came with a sp ecial DVD containing two versions of the PV for "Tomodachi wa Tomodachi Nanda!", as well as additional footage. Both editions also contained a ticket to the album's release event. The album features seven of the group's previous singles, as well as five original tracks.
The album's theme is "not a child, but not yet an adult".
Tracklist
Edit
Otakebi Boy WAO! (雄叫びボーイ WAO!; War Cry Boy WAO!)
Rival (ライバル; Rival)
Ryuusei Boy (流星ボーイ; Meteor Boy)
Ai ni wa Ai Desho? ((愛には 愛でしょ; Love For Love, Right?) - Tsugunaga Momoko and Natsuyaki Miyabi
Seishun Bus Guide (青春バスガイド; Youth Bus Guide)
Kimi no Tomodachi (君の友達; Your Friends)
Grand demo Rouka demo Medatsu Kimi (グランドでも廊下でも目立つ君; On The Ground, On The Hallway, You Stand Out)- Sudo Maasa and Kumai Yurina
Tomodachi wa Tomodachi Nanda! (友達は友達なんだ!; A Friend is a Friend!)
Kibou no Yoru (希望の夜; Hopeful Night)
Dakishimete Dakishimete (抱きしめて 抱きしめて; Hold Me, Hold Me)
Yakimochi wo Kudasai! (ヤキモチをください!; Give Me Your Jealousy!) Shimizu Saki, Tokunaga Chinami and Sugaya Risako
Watashi no Mirai no Danna-sama (私の未来のだんな様; My Future Husband)
Limited Edition DVD
Edit
Tomodachi wa Tomodachi Nanda! (PV)
Tomodachi wa Tomodachi Nanda! (Close-up Ver.)
Tomodachi wa Tomodachi Nanda! (Making Of)"
Featured Members
Edit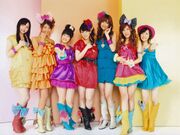 Album Information
Edit
Ai ni wa Ai Desho
Kimi no Tomodachi
Grand Demo Rouka Demo Medatsu Kimi
Kibou no Yoru
Yakimochi wo Kudasai!
Concert Performances
Edit
Yakimochi wo Kudasai!
Kimi no Tomodachi
Grand Demo Rouka Demo Medatsu Kimi
| Mon | Tue | Wed | Thu | Fri | Sat | Sun | Week Rank | Sales |
| --- | --- | --- | --- | --- | --- | --- | --- | --- |
| - | 6 | 9 | 16 | 23 | 35 | 46 | 12 | 8,950 |
| - | - | - | - | - | - | - | 108 | 1,129 |
| - | - | - | - | - | - | - | 148 | 716 |
Total Reported Sales: 10,795
External Links
Edit
Berryz Koubou
Concerts & Events

Concerts

Spring Tours: 2006 | 2007 | 2009 | 2011 | 2012 | 2013 | 2014


Summer Tours: 2005 | 2006 | 2007 | 2010
Fall Tours: 2005 | 2008 | 2009 | 2010 | 2013 | 2014
Other: 2007 | 2010 (Bangkok, Festival) | 2011 (Sakura-Con, Tanabata) | 2012 (AnimeNEXT, Tanabata) | 2013 (Bangkok, Tanabata) | 2014 (Tanabata, Budokan, Naruchika) | 2015 (Matsuri, Ikube!)

Other Concerts & Events
Joint Concerts
Spring Tours: 2008 (with ℃-ute)


Summer Tours: 2004 (with W) | 2005 (with W)
Fall Tours: 2011 (with ℃-ute) | 2013 (with Juice=Juice)
Other: 2014 (with ℃-ute)

Hello! Project Concerts
Summer Tours: 2009 | 2010 | 2011 (WOW WOW, YEAH YEAH) | 2012 (Ktkr, Wkwk) | 2013 (Sorezore!, Mazekoze!) | 2014


Winter Tours: 2010 (Mobekimasu!) | 2011 (A-gana, B-kkuri) | 2012 (Funky-chan, Rock-chan) | 2013 (Viva!, Bravo!) | 2014 (GOiSU MODE, DE-HA MiX) | 2015
Hina Fest: 2013 (Zen'yasai, Berryz Koubou 10 Nenme Totsunyuu Special, Thank You For Your Love!) | 2014
Other Concerts: Hello! Project ☆ Festival 2011 | Hello! Project Yaon Premium Live ~Soto Fest~ | Hello! Project COUNTDOWN PARTY 2013 ~GOOD BYE & HELLO!~ | Hello! Project COUNTDOWN PARTY 2014 ~GOOD BYE & HELLO!~