Ad blocker interference detected!
Wikia is a free-to-use site that makes money from advertising. We have a modified experience for viewers using ad blockers

Wikia is not accessible if you've made further modifications. Remove the custom ad blocker rule(s) and the page will load as expected.
3rd ~LOVE Escalation!~ (3rd~LOVEエスカレーション!~) is the 3rd studio album by ℃-ute. The album was released on March 12, 2008. The album was released in both limited and regular editions; the limited coming with a bonus DVD. It's their highest-selling album, with 17,099 copies sold until ② ℃-ute Shinsei Naru Best Album in 2012. It reached 10 on the Oricon weekly charts.
Tracklist
Edit
Tokaikko Junjou (都会っ子 純情; City Girl's Pure Heart)
Image Color - Yajima Maimi, Suzuki Airi
Otome COCORO (乙女COCORO; A Girl's Heart)
LALALA Shiawase no Uta (LALALA 幸せの歌; Lalala Song of Happiness)
Homerare Nobiko no Theme Kyoku (ほめられ伸び子のテーマ曲; The Theme Song of a Child Who is Praised and Grows)
Meguru Koi no Kisetsu (めぐる恋の季節; The Revolving Seasons of Love)
Sweeeets→→→Live - Okai Chisato, Arihara Kanna
Sakura Chirari (桜チラリ; Fleeting Cherry Blossoms)
Hare no Platinum Doori (晴れのプラチナ通り; A Sunny, Platinum Street) - Nakajima Saki, Hagiwara Mai
Do Don ga Don Ondo (ドドンガドン音頭) - Tension Ageko with ℃-ute Choir
Limited Edition DVD
Edit
LALALA Shiawase no Uta (Live Ver.) (LALALA 幸せの歌 (Live Ver.))
LALALA Shiawase no Uta (Umeda Erika Close-up Live Ver.) (LALALA 幸せの歌 (梅田えりか Close-up Live Ver.))
LALALA Shiawase no Uta (Yajima Maimi Close-up Live Ver.) (LALALA 幸せの歌 (矢島舞美 Close-up Live Ver.))
LALALA Shiawase no Uta (Nakajima Saki Close-up Live Ver.) (LALALA 幸せの歌 (中島早貴 Close-up Live Ver.))
LALALA Shiawase no Uta (Suzuki Airi Close-up Live Ver.) (LALALA 幸せの歌 (鈴木愛理 Close-up Live Ver.))
LALALA Shiawase no Uta (Okai Chisato Close-up Live Ver.) (LALALA 幸せの歌 (岡井千聖 Close-up Live Ver.))
LALALA Shiawase no Uta (Hagiwara Mai Close-up Live Ver.) (LALALA 幸せの歌 (萩原舞 Close-up Live Ver.))
LALALA Shiawase no Uta (Arihara Kanna Close-up Live Ver.) (LALALA 幸せの歌 (有原栞菜 Close-up Live Ver.))
Opening (オープニング)
Sakura Chirari (Live at Nihon Seinenkan) (桜チラリ (Live at Nihon Seinenkan)) Hello! Project 2007 Summer 10th Anniversary Dai Kanshasai ~Hello☆Pro Natsu Matsuri~
Meguru Koi no Kisetsu (Live at Saitama Super Arena) (めぐる恋の季節 (Live at Saitama Super Arena))
Tokaikko Junjou (Live at Shinagawa Stellar Ball) (都会っ子 純情 (Live at Shinagawa Stellar Ball))
Ending (エンディング)
Featured Members
Edit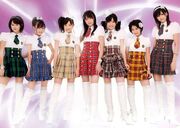 Concert Performances
Edit
Image Color
Otome COCORO
Homerare Nobiko no Theme Kyoku
Sweeeets→→→Live
Hare no Platinum Doori
Do Don ga Don Ondo
Album Information
Edit
All Lyrics and Composition: Tsunku
Image Color
Otome COCORO
Homerare Nobiko no Theme Kyoku
Sweeeets→→→Live
Hare no Platinum Doori

Arrangement: Hirata Shoichiro

Do Don ga Don Ondo
Daily & Weekly Ranking
| Mon | Tue | Wed | Thu | Fri | Sat | Sun | Week Rank | Sales |
| --- | --- | --- | --- | --- | --- | --- | --- | --- |
| - | 5 | 8 | 20 | 30 | 24 | 31 | 10 | 13,780 |
| 46 | - | - | - | - | - | - | 116 | 1,621 |
| - | - | - | - | - | - | - | 214 | 1,019 |
| - | - | - | - | - | - | - | 264 | 679 |
Yearly Ranking
| Year | Year Rank | Sales |
| --- | --- | --- |
| 2008 | 534 | 17,099 |
Total Reported Sales: 17,099
External Links
Edit
℃-ute
Concerts & Events

Concerts

Spring Tours: 2007 (Hajimatta yo! Cutie Show, Golden Hatsu Date) | 2009 | 2010 | 2011 | 2012 | 2013 | 2014 | 2015 | 2016


Summer Tours: 2008 | 2009 | 2010
Fall Tours: 2007 | 2013 (Budokan, Regular Tour) | 2014 | 2015 | 2016
Winter Tours: 2012-2013 | 2017
Other: 2006 | 2007 | 2008 (LOVE Escalation!, ℃-ute no Hi) | 2009 (℃-ute no Hi, FIVE) | 2010 | 2011 (Kiss me Aishiteru, ℃-ute no Hi) | 2012 | 2013 | 2014 (Spring Naruchika, Taipei, ℃-ute no Hi, Fall Naruchika) | 2015 (Spring Naruchika, ℃-ute no Hi, Mexico, Winter Naruchika) | 2016 (Hong Kong & Taipei) | 2017 (Naruchika)

Other Concerts & Events
Joint Concerts
Spring Tours: 2008 (with Berryz Koubou) | 2011 (with S/mileage)


Fall Tours: 2011 (with Berryz Koubou) | 2013 (with S/mileage)
Other: 2014 (with Berryz Koubou)

Hello! Project Concerts
Summer Tours: 2009 | 2010 | 2011 (WOW WOW, YEAH YEAH) | 2012 (Ktkr, Wkwk) | 2013 (Sorezore!, Mazekoze!) | 2014 | 2015 | 2016


Winter Tours: 2010 (Mobekimasu!) | 2011 (A-gana, B-kkuri) | 2012 (Funky-chan, Rock-chan) | 2013 (Viva!, Bravo!) | 2014 (GOiSU MODE, DE-HA MiX) | 2015 | 2016 | 2017
Hina Fest: 2013 (Zen'yasai, Berryz Koubou 10 Nenme Totsunyuu Special, Thank You For Your Love!) | 2014 | 2015 | 2016
Other Concerts: Hello! Project ☆ Festival 2011 | Hello! Project Yaon Premium Live ~Soto Fest~ | Hello! Project COUNTDOWN PARTY 2013 ~GOOD BYE & HELLO!~ | Hello! Project COUNTDOWN PARTY 2014 ~GOOD BYE & HELLO!~ | Berryz Koubou Matsuri | Hello! Project COUNTDOWN PARTY 2015 ~GOOD BYE & HELLO!~