Missing Info
This article is missing important information or sections. You can help Hello! Project Wiki by expanding it.

This article still needs the following: Two songs from the setlist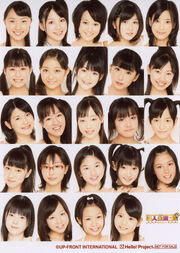 2010 Hello! Project Shinjin Kouen 3gatsu ~Yokohama GOLD!~ (2010ハロー! プロジェクト新人公演3月 ~横浜GOLD!~) is Hello Pro Egg's March 2010 Shinjin Kouen concert. Three new eggs, Kizawa Runa, Nagasawa Wakana, and Kudo Haruka, were introduced in this concert.
Go Girl ~Koi no Victory~ (Go Girl ~恋のヴィクトリー~)
MC
Koibito wa Kokoro no Ouendan (恋人は心の応援団) - Furukawa Konatsu, Maeda Yuuka, Takeuchi Akari
Arigatou ~Ookiku Kansha!~ (ありがとう ~大きくカンシャ!~) - Shugo Chara Egg!
MC
EVERYDAY YEAH! Kataomoi (EVERYDAY YEAH! 片想い) - Ogawa Saki, Takeuchi Akari, Katsuta Rina
Diary (ダイアリー) - Saho Akari
Massara Blue Jeans (まっさらブルージーンズ) - Tanaka Anri, Kikkawa Yuu, Wada Ayaka, Fukuda Kanon, Sato Ayano
Piriri to Yukou! (ピリリと行こう!)
MC
Yumemiru Fifteen (夢見る15歳) - S/mileage
Suki-chan (スキちゃん) - S/mileage
MC
Roman ~MY DEAR BOY~ (浪漫 ~MY DEAR BOY~) - Furukawa Konatsu, Sekine Azusa, Arai Manami, Komine Momoka, Fukumura Mizuki, Takeuchi Akari, Hirano Tomomi, Takagi Sayuki
Te wo Nigitte Arukitai (手を握って歩きたい) - Kikkawa Yuu, Sato Ayano, Tanabe Nanami
Omoitattara Kichi desse! (思い立ったら 吉でっせ!) - Saho Akari, Sainen Mia, Okai Asuna, Maeda Irori, Kaneko Rie, Katsuta Rina
Dance Battle
MC
Egao ni Namida ~THANK YOU! DEAR MY FRIENDS~ (笑顔に涙 ~THANK YOU! DEAR MY FRIENDS~)
Featured Members
Edit
Makoto (MC)
Hello Pro Egg
This was the last Shinjin Kouen concert to feature S/mileage.
Date
Time
Prefecture
Venue
March 27, 2010
15:30
Kanagawa
Yokohama BLITZ
18:30
External Links
Edit
Ad blocker interference detected!
Wikia is a free-to-use site that makes money from advertising. We have a modified experience for viewers using ad blockers

Wikia is not accessible if you've made further modifications. Remove the custom ad blocker rule(s) and the page will load as expected.