2009 Hello! Project Shinjin Kouen 6gatsu ~Nakano STEP!~
Comments

0
Share
Ad blocker interference detected!
Wikia is a free-to-use site that makes money from advertising. We have a modified experience for viewers using ad blockers

Wikia is not accessible if you've made further modifications. Remove the custom ad blocker rule(s) and the page will load as expected.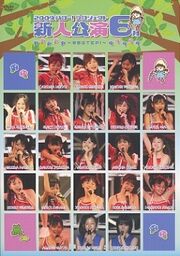 2009 Hello! ProjectShinjin Kouen 6gatsu ~Nakano STEP!~ (2009ハロー! プロジェクト新人公演6月 ~横浜STEP!~) was Hello Pro Egg's June 2009 Shinjin Kouen concert. New members Hirano Tomomi and Katsuta Rina were first introduced at this concert. The DVD was filmed on June 7, 2009 at Nakano Sunplaza, and released on September 13, 2009. It was sold during Hello Pro Kenshuusei's September 2009 Shinjin Kouen concert.
MC
Hajimete no Happy Birthday! - Maeda Yuuka, Komine Momoka, Kaneko Rie
Shanimuni Paradise - Noto Arisa, Wada Ayaka, Fukuda Kanon, Maeda Irori
Ai ~Suite Room~ - Sengoku Minami, Kitahara Sayaka, Sekine Azusa
Wakkyanai (Z) - Mori Saki, Okai Asuna, Ogawa Saki, Fukumura Mizuki, Arai Manami
MC
Omakase♪Guardian - Wada Ayaka, Maeda Yuuka, Fukuda Kanon, Saho Akari
BABY! Koi ni KNOCK OUT! - Noto Arisa, Furukawa Konatsu, Sainen Mia
GET UP! Rapper - Sengoku Minami, Kitahara Sayaka, Mori Saki, Maeda Irori
Renai Sentai Shitsu Ranger - Sekine Azusa, Kaneko Rie, Arai Manami, Fukuda Kanon
Michi Naru Mirai e - Noto Arisa, Sengoku Minami, Furukawa Konatsu, Sainen Mia, Mori Saki, Kitahara Sayaka, Komine Momoka, Saho Akari, Okai Asuna, Sekine Azusa, Fukumura Mizuki, Maeda Irori, Kaneko Rie, Arai Manami, Sato Ayano
MC
aMa no Jaku - S/mileage
Enryo wa Nashi yo! - Saho Akari, Sekine Azusa, Kitahara Sayaka, Furukawa Konatsu
MC
Sousaku Dance
MC
Featured Members
Edit
Concert Schedule
Edit
Date
Time
Venue
2009.06.07
15:30
Nakano Sunplaza (Tokyo)
2009.06.07
18:30
External Links
Edit