2009 Hello! Project Shinjin Kouen 4gatsu ~Yokohama HOP!~
Comments

2
Share
Ad blocker interference detected!
Wikia is a free-to-use site that makes money from advertising. We have a modified experience for viewers using ad blockers

Wikia is not accessible if you've made further modifications. Remove the custom ad blocker rule(s) and the page will load as expected.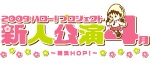 Hello! Project 2009 Shinjin Kouen 4gatsu ~Yokohama HOP!~ (2009ハロー! プロジェクト新人公演4月~横浜HOP!~) was Hello Pro Egg's April 2009 Shinjin Kouen concert. The concert took place on April 4 and April 5, 2009.
A new unit (later named S/mileage) was announced and new Hello Pro Egg members Sato Ayano and Sezaki Azusa were introduced at the April 4 concert.
MC
Suki Sugite Baka Mitai - Noto Arisa, Sengoku Minami, Kitahara Sayaka, Fukuda Kanon
Hajimete no Rock Concert - Kikkawa Yuu, Mori Saki, Wada Ayaka
Koi wa Hipparidako - Sawada Yuri, Saho Akari
Otome Pasta ni Kandou - Sekine Azusa, Komine Momoka, Ogawa Saki, Maeda Yuuka
MC
Sakura→Nyuugakushiki - Kikkawa Yuu, Kitahara Sayaka, Furukawa Konatsu, Fukuda Kanon
Tropica~l Koishite~ru - Mori Saki or Wada Ayaka or Maeda Yuuka
Chokotto LOVE - Ogawa Saki, Maeda Irori, Arai Manami
Suki na Senpai - Fukumura Mizuki, Kaneko Rie, Takeuchi Akari, Miyamoto Karin
Omoitattara Kichi desse! - Noto Arisa, Tanaka Anri, Sengoku Minami, Sawada Yuri, Kikkawa Yuu, Furukawa Konatsu, Sainen Mia, Mori Saki, Kitahara Sayaka, Komine Momoka, Okai Asuna, Sekine Azusa, Fukumura Mizuki, Ogawa Saki, Maeda Irori, Kaneko Rie, Arai Manami, Takeuchi Akari, Miyamoto Karin
MC
Zukyun LOVE - Komine Momoka, Maeda Irori
Tsuugaku Vector☂ - Kikkawa Yuu or Ogawa Saki
DANCE DANCE DANCE - Sengoku Minami, Furukawa Konatsu, Mori Saki
MC
Oshare! - Fukuda Kanon, Sekine Azusa
Yuujou ~Kokoro no Busu ni wa Naranee!~ - Noto Arisa, Sawada Yuri, Wada Ayaka, Maeda Irori, Arai Manami, Takeuchi Akari
Say Yeah! -Motto Miracle Night- - Sengoku Minami, Kikkawa Yuu, Furukawa Konatsu, Mori Saki, Kitahara Sayaka, Komine Momomka, Maeda Yuuka, Saho Akari, Ogawa Saki
MC
Featured Members
Edit
Concert schedule
Edit
| Date | Time | Venue |
| --- | --- | --- |
| 2009.04.04 | 18:00 | Yokohama BLITZ (Kanagawa) |
| 2009.04.05 | 13:00 | Yokohama BLITZ (Kanagawa) |
| 2009.04.05 | 17:00 | Yokohama BLITZ (Kanagawa) |
External Links
Edit