Ad blocker interference detected!
Wikia is a free-to-use site that makes money from advertising. We have a modified experience for viewers using ad blockers

Wikia is not accessible if you've made further modifications. Remove the custom ad blocker rule(s) and the page will load as expected.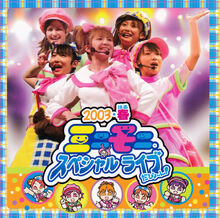 2003 Haru Minimoni Special Live Dapyon! (2003・春 ミニモニ。スペシャルライブだぴょ~ん!) is a concert featuring Minimoni, with Goto Maki as special guest. It was released on October 29, 2003. This concert was filmed live at Tokyo International Forum on March 29, 2003. The DVD peaked at #3 on the Oricon weekly charts and sold 10,977 copies.
Yaguchi Mari's graduation from Minimoni took place at this concert, as well as the introduction of Takahashi Ai as a new member.
Introduction (いんとろだくしょん)
Minimoni Jankenpyon! (ミニモニ。ジャンケンぴょん!)
Minna ni Goaisatsu Dapyon! (みんなにごアイサツ だぴょ~ん)
Yaguchi ni Totte no Minimoni (矢口にとってのミニモニ。)
Minimoni Telephone! Rin Rin Rin (ミニモニ。テレフォン!リンリンリン)
Minimoni no Rival Unit ga Toujou!? (ミニモニ。のライバルユニットが登場!?)
Minihamus no Ai no Uta (ミニハムずの愛の唄)
Kago Tsuji Kyouju no Owarai Taisou (加護 辻 教授のお笑い体操)
Ai~n Taisou (アイ~ン体操)
Kago Tsuji ni Totte no Minimoni (加護 辻にとってのミニモニ。)
Yaguchi Minimoni Sotsugyoushiki (矢口ミニモニ。卒業式)
Okashi Tsukutte Okassui~! (お菓子つくっておっかすぃ~!)
Yaguchi Minimoni kara no Sotsugyou (矢口ミニモニ。からの卒業)
Shin-Minimoni Toujou! (新ミニモニ。登場!)
Takahashi ni Totte no Minimoni (高橋にとってのミニモニ。)
Shin-Minimoni & Yaguchi no Character (新ミニモニ。&矢口のキャラクター)
Mika no Hapimoni Kouza (ミカのハピモニ講座)
Ohayousan ~Mata Ashita no Uta~ (おはようさん~また明日の唄~)
Shin-Leader Mika (新リーダー ミカ)
Rock n' Roll Kenchoushozaichi (Ishou Hen & Character Hen) (ロックンロール県庁所在地(衣裳編&キャラクター編))
Rock 'n' Roll Kenchoushozaichi ~Oboechaina Series~ (ロックンロール県庁所在地~おぼえちゃいなシリーズ~)
Kore kara no Minimoni (これからのミニモニ。)
Genki Jirushi no Oomori Song (げんき印の大盛りソング)
Special Guest Goto Maki Toujou (スペシャルゲスト 後藤真希登場)
Uwasa no SEXY GUY (うわさのSEXY GUY)
Minimoni no Uta (Character Version) (ミニモニ。の歌(キャラクターバージョン))
Ohayousan ~Mata Ashita no Uta~ (Character Version) (おはようさん~また明日の唄~(キャラクターバージョン))
Rock 'n' Roll Kenchoushozaichi ~Oboechaina Series~ (Character Version) (ロックンロール県庁所在地~おぼえちゃいなシリーズ~(キャラクターバージョン))
Minimoni Kazoe Uta ~Ofuro Version~ (Character Version) (ミニモ二。数え歌~お風呂ば~じょん~(キャラクターバージョン))
Mikoukai Interview (Yaguchi Mari, Mika, Takahashi Ai, Tsuji Nozomi, Kago Ai) (未公開インタビュー(矢口真里、ミカ、高橋愛、辻希美、加護亜依))
Minimoni / Yaguchi / Gocchin Shin-Character Dapyon! (ミニモニ。・矢口・ごっちん 新キャラクター だぴょ~ん!)
Featured Members
Edit
External Links
Edit